In Season of Wonder (Haven Point #9) by RaeAnne Thayne, Haven Point seemed like the perfect place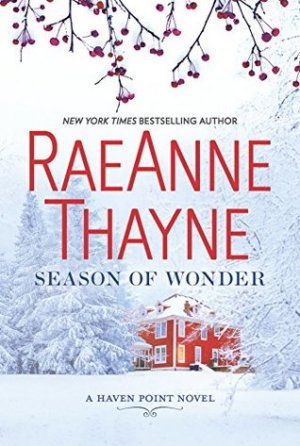 for Dani Capelli and her daughters, six-year-old Mia and thirteen-year-old Silver, to start over. With her dream job as a veterinarian and the kindest mentor she could ask for, Dr. Morales, she should be at her happiest, most stable point in her life. But Dani is constantly worried about money–and how Silver is coping with school and making new friends. Especially when her teenage daughter begins getting into trouble. She doesn't want to draw attention to them and have the things from her old life she's trying to leave behind come to light. And with the local deputy sheriff, Dr. Morales's son Ruben, as her next door neighbor, Dani can't seem to avoid the handsome guy. It's when he takes her daughters under his protective wing, showing them care and tenderness, that she knows she's in danger–of losing her heart to Ruben.
"I don't make smart decisions where men are concerned. I never have. I can't afford to let you be yet another mistake, Ruben. I have too much to lose here in Haven Point."
…"What makes you think we would be a mistake?"
"Years of experience."
Small town living suits Ruben to a T. He enjoys his family being close by and that he knows just about everyone in town. The drawback is that the dating pool isn't always so big. And he's always seen himself settling down, having a family of his own by this point in his life. So when Ruben's new neighbors move in and he spots Dani and her precious daughters, he knows he'll protect them with everything he has, and that he'll do whatever it takes to get to know them better. But Dani proves to be quite a challenge. Stubborn, private and beautiful beyond words, Ruben has his work cut out for him. Good thing that her adorably shy daughter Mia takes an instant liking to him, and that he understands teenage Silver's less than stellar behavior all too well. Helping Dani and her family celebrate their first Christmas in their new hometown, Ruben can't wait to show them why Haven Point is the most magical place to be for the season.
'He was falling for this woman. He never would have expected it, even a week ago, but Dani and her curious mix of vulnerability and defiance were somehow managing to wriggle into his heart.'
A slow burn romance alongside a family's struggle to fit in to a new town, Season of Wonder was another heartfelt, sigh-worthy novel by one of my go-to authors, RaeAnne Thayne.
She found the lights dimmed and Mia in one of Ruben's arms. She was gazing at the tree, her eyes soft with wonder.
"Look, Mama," Mia whispered when Dani walked into the room. "We have the most beautiful tree in the whole wide world."
Ruben's gaze met hers and Dani had to catch her breath at the expression in them, soft amusement and a warm tenderness.
My season isn't complete without reading a holiday book from RaeAnne Thayne. Seriously. I read everything she puts out throughout the year of course, but there's something so magical and sweet about her Christmas books that I simply can't resist them. And I have to say I fell in love with Dani and Ruben's story. From his boisterous family, some of whom fans have already met, to Dani's two very different, but equally wonderful daughters, Thayne pulled on my heartstrings with her accurate depiction of family dynamics. The fun, lively moments. The heartbreaking, raw scenes. They all added up to a cohesive story that didn't want to let go.
I always enjoy getting to really know each character Thayne creates when it's time for their own story. And even though Dani was standoffish and borderline abrupt at times, you could tell it was just to mask the pain of her past and to protect herself. Because ultimately she was a wonderful woman, a single mom who hadn't had many good breaks in life but who had made the best of things. There's one particular scene with Dani in the veterinary clinic when she thinks she's alone with the animals who are out back recovering from being sick or having surgery that made my heart melt. As it did Ruben's. The other part that melted Ruben's (and my) heart? Dani's daughters Mia and Silver. I loved how happy and caring Mia was and how she latched onto Ruben, knowing he would never hurt her. Silver, the surly teen, took me a tiny bit to warm up to but beneath her angst and 'tude was a girl that had a heart of solid gold who I couldn't help adore.
Our hero Ruben was exactly what I would hope for in a small town deputy sheriff: honorable, inquisitive, kind, family-focused…and it didn't hurt that he was sexy as all get-out. *grins* But really, Ruben was just what Dani and her daughters needed in their lives. His caring nature and his stability helped ground the lonely vet and brought Mia and Silver out of their shells. I can't say enough good things about Ruben's connection with the girls and how warm and welcoming his family was to them as well. I loved that once he admitted to himself how strong his feelings were for Dani that he went all in and proceeded to sweep her off her stubborn feet.
What's better than watching families come together, honoring old holiday traditions and creating new ones in the process? Season of Wonder was filled with those moments, along with a heartwarming romance that will give readers the warm & fuzzies.

Book Info:

Publication: Published September 25th 2018 | HQN Books | Haven Point #9
He's giving her children a season of wonder…
Dani Capelli seized a chance to start over in a small town with her daughters. Now, facing her first Christmas in Haven Point, she wonders if leaving New York was a mistake. Dani loves working alongside veterinarian Dr. Morales, but her two children aren't adjusting to small-town life. And then there's Dr. Morales's son, Ruben—Dani's next-door neighbor. Gorgeous, muscled and dependable, the deputy sheriff is everything she secretly craves and can't bear to risk loving…and losing.
Ruben never pictured himself falling for a big-city woman like Dani. But beneath her prickly facade, she's caring and softhearted and she needs all the love and protection he can give. When Dani's teenage daughter starts acting out, Ruben draws on family traditions to show the girls just how magical a Haven Point Christmas can be. But can he convince Dani that she's found a home for the holidays—and forever—in his arms?