In This Love by Kelly Elliott, Cord is a playboy, known to sleep with anyone. Then a green-eyed Irish woman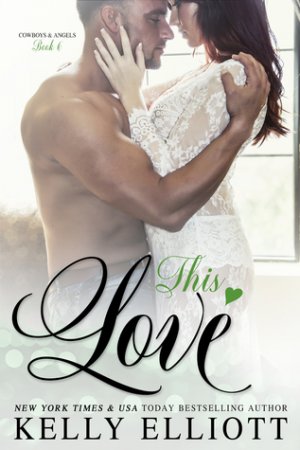 strolls into his bar and changes him. He only has eyes for her, even when he realizes Maebh's the owner of the new restaurant/bar opening up next to his own bar. But when Cord's past catches up with him, and Maebh's insecurities take over, will their budding relationship be able to survive?
This is the sixth book in the Cowboys and Angels series, and the author warns at the start of the book that the books need to be read in order because the stories build up off one another. Not having read any of the previous books, I was a little a nervous because of this, however, I found it was ok to read it as a standalone. I did feel like I was missing a something in regards to Maebh's bar opening next to Cord's, and I felt like I was missing a little something between Cord's brother, Trevor, and Scarlett, the woman he's interested in. Other than that, I had no issues. So while it's recommened that you read the previous books first, I think you'll be ok if you don't.
I liked Cord and Maebh's relationship. Neither feels like they're good enough for one another. It leads to a lot of insecurity on Maebh's part, as she struglles with believing that someone with Cord's past could be satisfied with a woman who doesn't have his experience level. Cord does his best to prove to her that she is enough for him.
I enjoyed Cord's meddling family. It's clear they mean well and want the best for one another, and several of their interactions left me laughing. There was one point where I was a little disappointed in his sisters' reaction to something that had happened. Instead of giving him a chance to explain, they immediately assumed he was in the wrong. I thought they should have known him better than to jump to such a conclusion. Still, throughout most of the book, they were nothing but supportive of the couple both together and as individuals.
Trevor's book is next, and it's the final book in the series. I'm looking forward to it, given what is revealed about Trevor and Scarlett in this book. It should be interesting to see if Trevor can get over his fear of committment.
This Love has a perfect blend of romance, angst, and humor. Readers who enjoy small town romances and tight-knit families will enjoy this one.

Book Info:

Publication: October 9, 2018 | K. Elliott Enterprises, Inc | Cowboys & Angels #6
I was a self-appointed bachelor and happy to have the title. Everyone thought it was time for me to settle down and find a nice girl. Well, no thank you. This cowboy wanted to stay clear of relationships. I wanted the freedom that came with no strings.
But what did I know? Nothing apparently.
Everything changed when I looked into her green eyes; my world tilted when she smiled at me.
What was this feeling?
Whatever was happening had me losing my damn mind. I fumbled with my words. My body wasn't my own. I wanted her … desperately.
Was I ready to give up my bachelor days, or was this Irish girl simply an itch I needed scratched?