Second Chance Alaska by Jennifer Snow is a friends-to-lovers story. Three years earlier, lighthouse keeper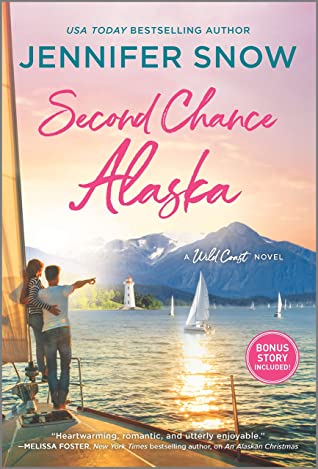 Oliver Klein's wife and oldest daughter went out for a sail and never returned, and their bodies never recovered. Carly Walters was the best friend to Oliver's wife, Alison. Over the years since Alison's disappearance, Carly and Oliver have become best friends. She secretly desires more with him, but Oliver has never seemed interested, that is, until Sebastian Grant, the new head of tourism development, arrives in town.
Sebastian has his sights set on Carly, which stirs Oliver into action. He doesn't want to picture Carly with this interloper from the city, and he especially doesn't want her with the man that wants to kick him and his daughter out of the lighthouse to turn it into a B&B for the town. Oliver wants to prove to her that they can be more than friends, but when they disagree about the B&B, will their budding romance and their friendship be able to survive?
Oliver seems to be the opposite of Carly; she's outgoing and friendly, while he has become withdrawn with pretty much everyone but his daughter and Carly. Carly cares about everything going on in the town; Oliver only really cares about his duties at the lighthouse. The one thing they are united on is their grief over the disappearance of his wife and daughter. Their shared grief has united them in a way others can't understand, and it allows him to drop his walls around her and let her see the real Oliver. I liked them as a couple, but my main issue is that while it's ok for Carly to disagree about the future of the lighthouse, she made some major assumptions about what Oliver could do in the future without consulting him or asking him what he would want to do if he was no longer responsible for the lighthouse.
I wasn't crazy about the people in the town, either. While I understood the need to have a B&B, they were all willing to consider kicking Oliver and his daughter out of the only home they've ever known. They didn't seem to take them into consideration, which didn't sit well with me. It also left me wondering why the town just couldn't do something with the previous B&B in town, which had shut down, instead of trying to force Oliver and Tess out of their home.
This is the third book in the A Wild Coast series, but it can be read as a standalone. If you have not previously read the other stories, you won't feel like you're missing anything if you jump into the series here. The copy I read also included a short novella, Love in the Alaskan Wilds. I won't review that as it's not the main book, but it was a fairly quick read.
Second Chance Alaska is a story about hope, healing, and finding a second chance at love. While I didn't care for the actions of the townspeople, the romance between Oliver and Carly was sweet and enjoyable, and fans both new and old to the series will enjoy it.
Book Info:

Publication: March 28, 2023 | HQN Books | A Wild Coast #3
Oliver Klein's wife and oldest daughter were lost at sea—a tragic mystery that left the small coastal town of Port Serenity reeling. Three years later, surrounded by the wild Alaskan waters that claimed them, the grieving lighthouse keeper is still haunted by their disappearance. Oliver knows he should move on for the sake of his younger daughter, Tess, but he isn't so sure he's ready to love again.
Carly Walters knew losing her best friend, Alison, would break her heart—yet she never expected Alison's husband might be the one to mend it. The more her life intertwines with Oliver's, the harder she falls for him…and the guiltier she feels. Amid the rush of the summer tourist season, can Carly and Oliver finally accept the past while looking forward to a bright future…together?