What the Hex by Jessica Clare: From the time that she was old enough to really understand magic Penny has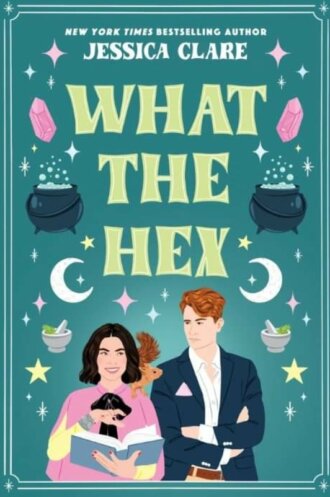 wanted to be a familiar, the only problem with this is the fact that the need for new familiars is pretty low, which means the wait to finally get placed with a witch or warlock may take a good few years. Which is why when Penny is presented with an unorthodox proposition to finally get her chance to become a real familiar she jumps right in, never mind that she would be apprenticing under a grumpy warlock that has been put on magic lockdown! William and Penny could not be more different, two sides to a coin you could say, light and dark, grumpy and sunshine but when it comes to doing magic together they just click. However not everything is all sunshine and roses, with half of the magic community watching their every move and one of Williams old enemies determined to harm Penny, these two need to work double time to try and get to the bottom of all this hocus pocus.
What The Hex was the perfect follow up to Go Hex Yourself, these two books were the perfect combination of magicy goodness, witty banter and some seriously steamy moments. What The Hex has a great mix of forced proximity, grump meets sunshine, fake dating and enemies to lovers all mashed together with a bit of mystery and I just loved it! I love that this book picks off right where we leave off in Go Hex Yourself, we already know a bit about both Penny and William which makes getting to their story a total breeze.
Penny was easily one of the cutest leading ladies ever. She was a total ball of love, sunshine and life. I really loved her commitment to the Fam and really all things magic, she was so passionate about being the best familiar that she could be but also helping others in the community and this just made me love her character all the more. I will say that my heart did hurt for her and the way her parents kind of just put her on the back burner after they found their witches. Penny was a total giver always willing to see the best in the people around her even when it came to the mean Fam members. More than anything I loved that she was so patient with Will even though he was so much older than her, she really saw him for his true self and not the gruff exterior that he puts up. Also I just adored her relationship with Pip her cute squirrel.
As far as grumpy reclusive warlocks go William was up there with the best of them. This guy was such a treat to get to unwrap and I just loved getting to see his softer side coming out. I loved how grumpy and uptight he was at the start of the book but really mellowed out as the book progressed. I just loved seeing his softer side and that he actually really cared about Penny and keeping her safe. More than this I really liked that he finally let someone into his heart and opened up about himself. I loved that even with all of his reluctance too Pip, he even warmed up to the squirrel.
The chemistry between Penny and William was just magic, they had this insane bond that translated through to their magic and I loved this. They really were two sides to the same coin and I really enjoyed getting too see them banter and flirt as they pretended to be a real couple only wind up actually falling in love. I will say things get pretty hot and steamy between them so definitely not a book for work! I loved the way the conflict and bad guy were taken care of and how this helped tie together the entire book. It was also really nice getting to see Ben and Reggie again and having them as back up for Penny.
I would definitely recommend reading What The Hex, this book was the perfect light hearted, cute read that will have you giggling most of the way through but also itching to know how Penny and Will out fox a century old warlock!
Book Info:

Publication: April 4, 2023 | Berkley Books | Hex #2
Penny Roundtree wants nothing more than to be a familiar to a witch. She's been a member of the Society of Familiars ever since she was old enough to join the Fam. There's just a small problem–no one's hiring. Witches and warlocks are so long-lived that there are far more familiars available than witches to train them. So when an unorthodox arrangement to apprentice under the table to a forbidden warlock presents itself, she takes it.
Willem Sauer is banned from having a familiar due to past transgressions, thereby limiting his magic-casting abilities. Unfortunately for the surly, Prussian warlock, he has no choice but to work with enthusiastic Penny as a familiar. They immediately clash like dried roan horsehair and honeycomb gathered by moonlight (it's a terrible spell combination, ask anyone).
Casting spells has delightful perks Penny never could have dreamed of, but also greater dangers. Someone is targeting Penny. Willem and Penny must work together to catch their enemy, and if their ploy requires a little kissing on the side, who is to question the rules of magic?