Second Chance Cowboy by Claire McEwen  is the fifth book in her Heroes of Shelter Creek series. This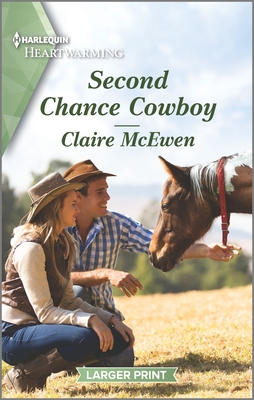 is such an emotional, heartwarming story. A fantastic second chance romance!
Emily Fielding never got over Wes Marlow's abrupt leaving her and her parents many years ago. Now Emily has taken over the veterinary practice started by her father. She also works with the Shelter Creek Wildlife Center. Guess you'd call her a workaholic. She needs another vet to help with her practice to have some breathing room. The morning Emily thought she saw Wes walking down the main street in Shelter Creek Emily thought she had to be hallucinating. That couldn't be Wes Marlow. Emily felt like a fool when she ducked down behind her truck when the man glanced toward her. She also felt a little like a stalker as she followed the man. But that didn't stop her from following the man into Tack and Feed Barn. At first Emily didn't see the man but then there he was in the pet section. Indeed it was Wes Marlow. What a shock! Turns out he's a veterinarian too and is in town looking for a job. Emily has been advertising the position in her practice and has no takers so far. But Wes? Can she trust him, work with him or anything after he broke her heart when she was a teen?
Wes Marlow was placed in the foster care system at a young age. After a couple rough placements he was lucky enough to go to the home of Tom and Meg Fielding. He was made to feel part of the family there. Those were great years and he felt awful leaving like he did. But he had to. Now he's back in Shelter Creek, where he has been yearning to return for years. If only he can gain forgiveness from the people he hurt when he left like he did all those years ago. Especially Emily's forgiveness. Wes has never forgotten Emily or his love for her. This will be a turning point in his life – hopefully.
Second Chance Cowboy by Claire McEwen is the fifth book in her Heroes of Shelter Creek series. This is such an emotional, heartwarming story. Wes' actions in his youth affected the whole town of Shelter Creek but especially the Fielding family. He had a very good reason for his actions at the time. The problem was that he never followed up with these people who cared for him later. Emily had to reevaluate how she sees Wes in order to accept the person he has turned out to be. They seem to be made for each other and I loved their journey to their Happily Ever After.
Book Info:

Publication: March 9th 2021 | Harlequin Heartwarming | Heroes of Shelter Creek #5
He was her first love…
But some things she can't forget
Busy small-town veterinarian Emily Fielding is finally ready to take on some help. The best man for the job, however, is Wes Marlow—who broke her heart in high school. Though Wes has a way with horses and a way of melting her resolve, Emily needs to keep things purely professional. Wes left her once—will he do it again? Because she can't lose her heart a second time…
Heroes of Shelter Creek
Book 1: Reunited with the Cowboy
Book 2: After the Rodeo
Book 3: Her Surprise Cowboy
Book 4: Rescuing the Rancher
Book 5: Second Chance Cowboy