Second Chance in Sri Lanka by Nina Milne: Zoe is attending her sister's destination wedding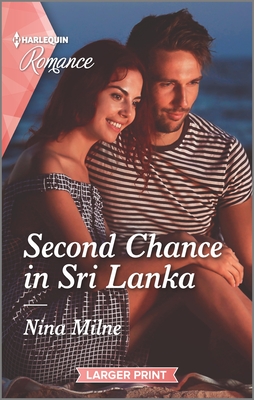 in Sri Lanka. She is looking forward to the exotic locale, celebration and delicious food. Her expectations are dashed when she discovers that her ex-husband is the groom's longtime friend and best man. She decides she will just have to make the best of it. After the groom's father has a medical emergency just a short time before the nuptials, Zoe is thrown even more together with Matt as they work to plan a wedding in a hospital.
Matt and Zoe were married a very short time. Despite precautions Zoe became pregnant. Matt had stated in no uncertain terms that he didn't want children. He did the right thing though and married Zoe so their child would have a family. When Zoe miscarried Matt saw no reason to continue the marriage and they split up. Zoe was heartbroken, but slowly tried to work through grief and disappointment.
Can the two of them resist the former attraction and sparks between them and part after the wedding is over?
The author does a masterful job revealing why Matt is so set against having children. His childhood was more than horrible.He has been able to succeed, but that trauma holds him back emotionally. Zoe has her own background baggage to deal with. The author focuses mostly on the two primary characters. There are a few secondary characters that add extra emotional depth to the plot.
The reader will enjoy the exotic locale and descriptions of the delicious food. It's always fun to get a glance inside different cultures and being able to feel you are visiting without ever leaving your home.
This is another charming novel by Nina Milne. My only reason for not giving it an even higher score is that the over use of repeating some of the details. I am sure readers and I will continue to enjoy destinations and more HEAs with this talented writer.
Book Info:

Publication: April 26, 2022 | Harlequin Romance |
Escape to beautiful Sri Lanka in this miraculous reunion romance by Nina Milne for Harlequin Romance.When sparks fly again…Miracles can happen! Seeing her ex-husband, Matt, again was meant to bring Zoe closure, not butterflies! But with memories of their marriage, which ended in heartbreak, impossible to ignore, her sister's Sri Lankan island wedding is a welcome distraction. Until Zoe and Matt are gifted a break alone on the beautiful island! It's an opportunity to prove they were never compatible and finally move on. Or, secluded in paradise, will they discover they were always meant to be?