The Wedding Season by Katy Birchall: The day for your wedding should be one of the most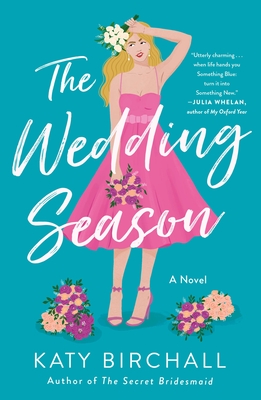 exciting, fun filled moments of her life but for Freya it was the day that her entire life was turned upside down. With everything set and ready for the big day, all her relatives on their way to her dads country home and a pair of peacocks on the loose the last thing she needed or expected was for her long time partner Matthew pull her into a broom closet and break up with her! Talk about bad timing but being the put together mature person that she is – also the reason Matthew broke up with her – Freya doesn't cause a scene but instead quietly starts cancelling what was supposed to be her happy day.
If having her heart broken so publicly wasn't bad enough now Freya has to endure a summer of seeing all of her friends getting married. Luckily her two besties have devised a plan to help Freya get through the dreaded wedding season without having her heart broken all over again. After all what better way to get over a break up than to push yourself way out of your comfort zone? Soon Freya finds herself smiling more and more with each of the wacky tasks set by her besties, maybe there is still hope for Freya to get a second chance at love somewhere in the How To Survive The Wedding Season Guide.
"If we were able to plan everything, we'd never change; we'd never learn or grow."
The Wedding Season is exactly the book any person coming out of a break up needs to read. This feel good romcom was so much more than a meet cute turned love story, this book at its very core proved that we are so much more than just one moment in life and that what someone might not love in you might just be the thing that attracts your true twin soul.
I have just been loving Birchall's books and this has only confirmed that I am a huge fan of her incredible work. Before I get into my thoughts on this book, I have to take a moment to mention this amazing cover, I just loved this colourful whimsy cover.
Freya really has been through the wringer and my heart just broke for her throughout this book, which only made getting to see her find her inner strength all the more beautiful. I really liked that this book largely focused on Freya finding her way again after being a part of a couple for the majority of her adult life, there was just something so real and relatable about the way Birchall portrayed Freya's journey that made reading this book so immersive.
I just loved the relationship that Freya had with her dad, brother and two best friends, I loved getting to see the way they all banded together to help her through this major change. The bond that she shared with her dad was just beautiful, I loved that in a way he two was relearning the dating world after so many years of being out of the game. It was also really nice getting to see Freya rebuild her relationship with her mother. Good gosh her mother was just a treat with her over the top bright outfits and the sausage ceremony.
"Mum, you burying a sausage has no effect on the weather. It's science."
"It's faith, darling. Sometimes it's healthy to have some of that."
For the first half of the book things are pretty sad, woo me and low but once Ruby and Leo devise the list things get interesting and fast! I just loved getting to see Freya as she stepped out of her comfort zone and in doing so really starting to live again. The bond that these three shared was the type of friendship we all want, that ultimate forever kind of bond and this shone through the book and the way they supported Freya. I just loved Ruby, gosh she was a whole mood all her own! I loved getting to see Freya tackle each of the bridal shower and weddings while completing her designated task which helped her see her life through fresh eyes. The entire concept of the survival guide list was brilliant, I loved that this not only helped keep her mind off Matthew but also helped her rediscover herself.
Now to be fair the romance in this book was a bit on the low side, but for me this was not such an issue. I really liked the way Jamie came into Freya's life and that even thought they were so different personality wise they just clicked. This only proved the age old saying that opposites attract. I loved their chemistry and the playful banter to go with both of them worked in the alcohol industry. I do wish that we got to see a bit more of a romantic relationship between Jamie and Freya but the bits that we did get were oh so sweet. Jamie was just a sweetheart that was impossible not to love. I will say that Freya did annoy me at moments especially in regards to Matthew, like girl move on now he broke up with you on the day before your wedding. This was the only annoying bit, I wish she had let go of this evidently dead relationship sooner, it largely held her and Jamie back from growing their connection.
The Wedding Season was a brilliant and highly entertaining read that I would definitely recommend adding to your TBR. I can not wait to see what Birchall has planned for next!
Book Info:

Publication: May 3, 2022 | St. Martin's Griffin |
Freya Scott is getting married. Her wedding to Matthew, her long-term boyfriend, is the first of eight in her calendar this year, and as someone who prides herself on being meticulously organized, Freya is intent on making it the perfect day to remember.
But when Matthew calls things off hours before they walk down the aisle, Freya's entire life plan goes up in smoke. Humiliated and heartbroken, the last thing she wants is to attend a summer of other peoples' nuptials on her own.
Fortunately, her friends have an idea: together they devise a series of outrageous challenges for Freya to complete at each event, designed to distract her from Matthew and what might have been. From getting stuck in an old church bathroom and needing to be rescued by the vicar to making out with a barman at a French chateau, Freya realizes that despite herself, she might just be having fun.
By the time the final wedding arrives, she will discover that the road to a happy ending sometimes has unexpected detours, that "I do" is only the beginning––and that perhaps her own love story isn't over just yet.