Second-Chance Summer by Jo McNally: Julie Brown is doing a wonderful as a resort manager. She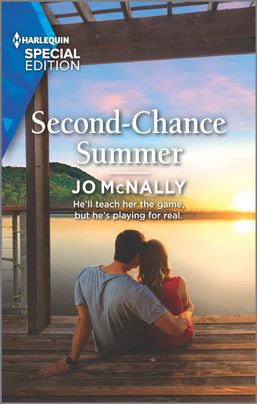 has worked hard to improve things and make everything even better. Quinn Walker is the golf pro at that same resort. He and Julie have had a difficult rivalry for quite some time. They get in a huge verbal fight over the upcoming charity golf tournament. Julie wants to have special events and food to include spouses of the golfers. These are not flying with Quinn since the times will not line up with the four hours of golfing time needed. They can't seem to come to a compromise until their boss has to have a mediation session with them.
Julie is nudged by her friends into pursuing a handsome new golfer. The bad part is these friends tell this man that Julie is a seasoned golfer when they and Julie know her only golfing is putt-putt in the past.
Julie has to swallow her pride and ask Quinn to set up golf lessons for her. This doesn't go well, but eventually they quit fussing and things move forward with the goal in sight. Both Julie and Quinn have lots of emotional baggage from the past, but does getting to know each other better pave the way for more than friendship?
I had to sympathize with Julie. She endured a horrible childhood and rose above it. At the same time the wall she built around herself for protection has resulted in her being almost forty and still single. She has over a dozen bridesmaids dresses in her closet so she definitely fits the old adage of "always a bridesmaid, never a bride". I loved how she grew during this charming story, even though she still had a hard time with having to have everything planned and not spontaneous.
Quinn has had to deal with the loss of his beloved wife and raise his daughter. I could understand how he was afraid he could never truly love someone again. His daughter is about to go off to college and she seems to have mixed feeling about him finding someone new. That is understandable to me that she afraid of her father not putting her or her late mother first in his heart.
Author Jo McNally brought the setting to life with vivid descriptions of the resort. I could visualize Julie's difficulty with her golf lessons. I never learned more than putt-putt myself and wasn't very good at that either.
It is ironic that while I was reading this book, the Masters Golf Tournament is taking place in Augusta, Georgia. I love serendipity. I also loved this book. There was lots of romance and lots of looking at how our past affects our current selves more than we realize.
Second-Chance Summer is the sixth in the Gallant Lake Stories. You don't have to worry about missing anything because this novel reads just like a standalone. You will want to get this book to take with you on an upcoming vacation.
Book Info:

Publication: April 26, 2022 | Harlequin Special Edition | Gallant Lake Stories #6
His biggest rival
Is becoming his greatest temptation
Julie Brown wants golf lessons? For golf pro Quinn Walker, Gallant Lake Resort's cheery yet determined manager is a thorn in his side. But the widowed single dad begrudgingly agrees to teach his sassy coworker the game he loves. As their lessons progress, Julie disarms Quinn in ways he can't explain…or ignore. A second chance at love is as rare as a hole in one. Can these rivals at work tee it up for love?