In Tear Down the Throne (Gargoyle Queen #2) by Jennifer Estep, As the crown princess of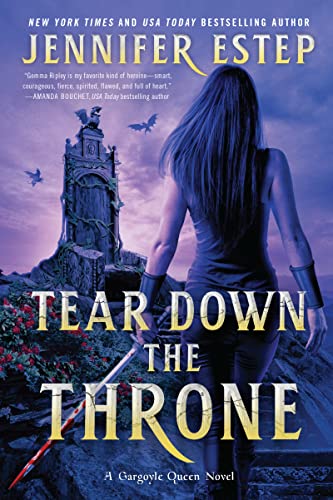 Andvari, Gemma Ripley is certainly no stranger to being in harm's way. With other kingdoms out to take her family's throne as well as long time enemies, the Morricones of Morta, who seem bent on killing her, Gemma is also surrounded by danger on her spy missions. People across the lands call her Glitzma, a nod to her pampered lifestyle. But they would be shocked to see her in stealthy fighting gear, wielding not only her mind magic but also a sword and dagger. And Gemma has recently proven herself as a fierce opponent after an enemy nearly succeeded in killing her–which came directly on the heels of a betrayal by Leonidas Morricone, a man she's loved to hate since they were children.
"How do you feel about me now? After everything that's happened?" I asked. "We haven't always been kind to each other, especially in recent weeks."
A grin creased his face. "Well, you haven't tried to murder me recently, so I'd say we've made considerable progress."
Gemma and her family's lives are once again under threat when they attend a local Summit where rulers from several kingdoms are in attendance. As she fends off the attacks, everything seems to point to evil Queen Maeven Morricone or her son Prince Milo. But could there be more than one family trying to assassinate Gemma? With help from her gargoyle Grimley, her friend Reiko, and, with more than a little reluctance on her part, from Leo himself, they set out to track who is behind the evil plots. But after Queen Maeven invokes an ancient tradition that could cause lasting effects in Gemma and Leo's lives, the cost becomes much higher as it also becomes that much more challenging to simply stay alive.
'This had morphed from an assassination scheme into a full-fledged battle–and quite possibly a war.'
Guaranteed to thrill readers with intrigue, political machinations, battles, and a thread of romance, Tear Down the Throne made me love Jennifer Estep's work–and epic fantasy romances–even more.
"Don't say things like that."
"Like what?"
"Things like that," I snarled. "Soft things, sweet things, lovely things that you don't really mean."
"I never say things I don't mean when it comes to you, Gemma. I never have, and I never will."
It's a sign of a great book when you hate to see it end. And as I turned the last page of Tear Down the Throne, I actually felt sad that we have to wait another year to get the third book, Conquer the Kingdom. I have fallen hard and fast in love with Gemma, Leo, Grimley, Reiko, Xenia and the rest. And it's no wonder. Jennifer Estep has the wonderful ability–no matter the genre–to weave complicated situations her characters need to navigate, all while layering in genuine emotion and exploring personal relationships that are easy to relate to. Meaning that Estep's writing is totally immersive for me. And as much as I am a huge fan of her urban fantasy Elemental Assassin series (Gin Blanco rocks!), I have to say that the Gargoyle Queen trilogy is giving it a run for its money.
I should mention that you will want to read the trilogy in sequential order as Tear Down the Throne picks up where Capture the Crown (book one) ended. There is a large cast with a lot of double-crossing and power plays at work, so reading the first book will explain it all in a way that will help you follow along as Gemma tries to stay alive and keep her kingdom safe.
I seriously didn't want to put this novel down. Everything about it worked–particularly that swoony ending. Between the intricately detailed fight sequences, questioning everyone's motives, seeing the villains have moments that made them more human, the palpable chemistry between Gemma and Leo, and the humorous scenes with the gargoyles and strixes, I hope readers will be as spellbound over Tear Down the Throne as I was.
QOTD: Are you a fan of complex enemies to lovers stories where the main characters have a tangled up past, and in this case, with their families also constantly at odds?
Book Info:

Publication: May 3rd 2022 | Harper Voyager | Gargoyle Queen #2
Bestselling author Jennifer Estep continues her Gargoyle Queen series with a highly anticipated sequel to Capture the Crown: Gemma Ripley must protect her kingdom and herself from threats of war, assassination, and a dangerous attraction that could break her reign…or her heart.
Crown princess. Clever spy. Powerful mind magier. Gemma Ripley of Andvari is all those things, but these days, she's also extremely worried. Her problem? Figuring out how to stop an enemy's plot to somehow use magical tearstone weapons to conquer her kingdom.
Gemma's quest for answers leads her to a trade Summit between the various kingdoms. Among the other royals in attendance is Queen Maeven Morricone of Morta and her son, Prince Leonidas—Gemma's charming and dangerous nemesis.
Gemma knows that Maeven always has a long game in motion, and sure enough, the cunning queen invokes an arcane tradition that threatens the fragile truce between Andvari and Morta. Despite her best intentions to keep her distance from the Morricones, Gemma once again finds herself thrown together with Leo and battling her growing feelings for the enemy prince.
When a series of deadly attacks shatters the Summit's peaceful negotiations, Gemma realizes that someone wants to tear the royals down from their thrones—and that this enemy just might succeed . . .