Second Chance Temptation by Joss Wood is the latest story in her Love in Boston series and as the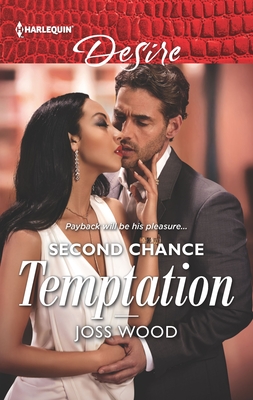 title implies, gives a couple the chance for a redo, with better luck this time around.
Tanna Murphy was only 19 when she was involved in a serious car accident that killed her friend, the driver. In short order she ended up engaged to the man who had come across their accident, but realizing she wasn't ready for marriage, left him at the altar. As a way of dealing with her survivor guilt, she'd moved away and taken training to become a paramedic, putting herself constantly into stressful and life altering situations. That decision has come with a cost, as she now is dealing with PTSD and in therapy. She's been advised to return to Boston and confront her past – including her ex-fiance Levi Brogan.
Levi was heartbroken when Tanna left him, but has successfully moved on with his life. Recently involved in an accident of his own (though not nearly as serious as Tanna's), he's on the mend but still dealing with his injuries. Tanna's appearance is both wanted and unwanted. He hasn't been able to forget her, no matter how much he's tried and her wish to apologize and try to make amends for leaving him as she did gives him an idea. If she's staying in Boston for a few weeks (she won't tell him why), he'll get her to help him with his recovery by being an assistant of sorts.
There's no denying the attraction that still exists between them, and when they mutually agree to an affair while she's there with no strings attached it leads to some hot and heavy nights. But will it also heal their wounds and give them the courage to risk their hearts again?
I've been enjoying this series very much, and am delighted to see that it's Levi's turn to get a happy ending, after seeing his sisters find great partners. The main conflict in the story is Tanna's internal one. As she was the one who asked her friend to drive the night she'd been drinking that ended in her friend's death, she has felt like she doesn't deserve to be happy since her friend is dead. Though she is good at her paramedic job, she takes no enjoyment in it but sees it as a penance she must pay. What she would love to do is to rejoin her family in Boston and work with them at their art auction house, and to be back in a relationship with Levi again. But that means having to let go of her guilt which is easier said than done.
Though Levi insists at the start that their rekindled relationship will just be a sexual one, he knows he is lying to himself and has never stopped loving Tanna. He realizes that she may leave him again after all, but is also aware that a relationship with her will not work in the long run if she doesn't make the choice to stay on her own, no matter how much he wants to convince her to let go of the past. Their love scenes are sexy and passionate. There are several secondary characters, including Levi's mother and sisters as well as Tanna's brothers who play an important part in the story. It looks like there will be more stories to come in a spinoff series with Tanna's family and I look forward to her brothers' books too! Fans of second chance romances with strong characters will enjoy this entertaining read.
Book Info:

Publication: Nov 01, 2019 | Harlequin Desire | Love in Boston
Years ago, she left him at the altar.
She. Owes. Him.
Now Tanna Murphy shows up, wanting to make amends? Nothing she could say would salvage Levi Brogan's broken trust. Or so he says. Yet Levi needs someone at his beck and call for the next six weeks. And he's discovered the perfect way Tanna can make it all up to him… With desire still burning between them, will temptation lead to their second chance?