Second Chance with the CEO by Anna DePalo: Are second chances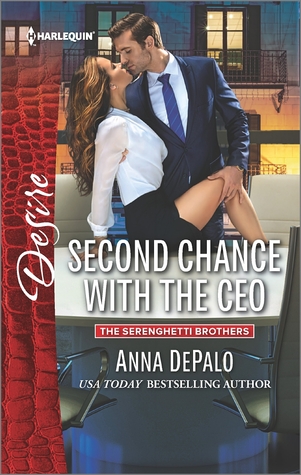 real? Or are they just a fairy tale?
Marisa Danieli knew she wasn't the golden girl so when the golden guy wanted to be with her, she was in seventh heaven and allowed herself to dream. Then the dream shattered. Now fifteen years later she had to face him again, but was she in a different place than she was back then?
Cole Serenghetti kept having his dreams slashed, first in high school and now again fifteen years later. Why were his dreams dying like this? Cole now has a chance for different dreams, for a different future, but will he be willing to try?
With Cole and Marisa thrust back together would their futures be as projected? Or would their hearts finally overrule?
There are many things that could be said about this one. The first that needs to be said is that the writing is fantastic. The details are vivid without being overwhelming. The characters feel like they are living and breathing. This is a wonderful read, it has a bit of heat, but nothing overwhelming. There is a touch of the sports world, but it's not a sports romance. This is definitely one to pick up though just so you can enjoy the amazingness.
Book Info:

Publication: September 6th 2016 | Harlequin Desire | The Serenghetti Brothers #1
Teacher Marisa Danieli needs a headliner for her school fund-raiser. Her best bet? Cole Serenghetti, former star hockey player turned CEO of his family's construction empire. Sure, she had a disastrous high school crush on the guy, but business is business…
Until it turns into funny business—and posing as a couple. This time, the feelings are red-hot and made worse by the fact that Marisa's ex-fiancé is dating Cole's ex-girlfriend! Is Marisa's fund-raiser coup about to backfire, or is this second chance with the CEO the real deal?