Meat by Opal Carew is a very quick, very sexy read that will keep you on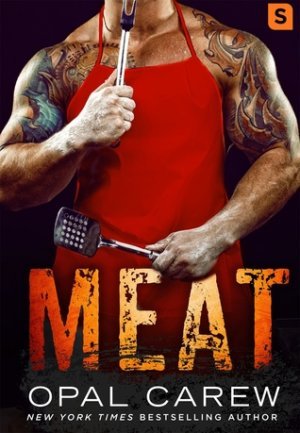 the edge of your seat and begging for more! This is the first book that I have read by this author, but it will not be my last. Meat is a very appropriate name for this story, because the main hero in this story is drool worthy and will make you want to take a bite! This is the story of Rex and Rebecca.
Rebecca Winston has just buried her beloved aunt. She is upset, she is heartbroken and she needs to get home. When she runs into the hottest guy she has ever seen, in the airport no less, she is struck. When she gets a message from her family with pictures of her aunt, her heartbreaks all over again, and it is the sexy stranger that gives her comfort, a shoulder to cry on. When their flight is cancelled, it is the same stranger that offers to share his room, and a night of pleasure the likes that she has never known.
Rex Keene is on his way to his new home, to his new job when a beautiful woman crashes into him. He is struck by her beauty, and when he later sees her crying, he rushes to comfort her. After a hot night spent in his hotel room, he wants to see her again, see where this spark and connection can take him.
When Rebecca walks into work and finds that Rex is the new chef, his specialty is Meat, and that he is striking fear and panic in the hearts of the employees, she is not sure if which Rex he really is, the one that gave her comfort, or the tyrant that is walking around firing the staff.
When secrets are reveled, and Rebecca is faced with some hard truths, she will need to decide if she and Rex can make it, or if they will crash and burn.
This story was very touching in ways. The way that Rex wanted to protect and offer comfort to Rebecca had me smiling. The books has some BDSM scenes, and you understand that this is a preference where Rex is concerned, but he has a tender side when it comes to Rebecca, not wanting to hurt her, or scare her. An wonderful quick read that will make you want more.

Book Info:

Publication: July 26th 2016 | Swerve |
Just one taste isn't enough…
I ran into Rex Keene—literally—when I was trying to catch my flight and his muscled, tattooed arms stopped my fall.
Then our flight gets canceled, and we're stranded in the same hotel room together…it ended up being the steamiest night of my life.
All I knew is that I had to see him again.
I just didn't expect him to show up a week later in the restaurant I manage…as our new head chef.
But the generous, tender man I spent that night with is gone; instead he's arrogant, demanding, and terrorizing the staff.
But he won't give up until we're together – and I'm not sure I can stay away.
Which man is real?
Who is Rex Keene?
From bestselling author Opal Carew, take a bite of Meat.