Second Position by Katherine Locke: I'm a regular attendee at our local ballet, having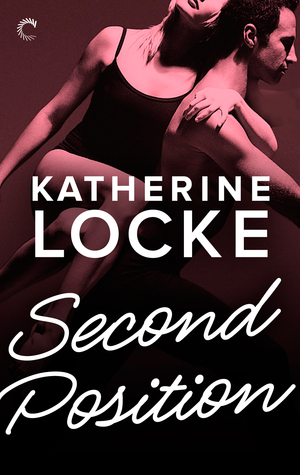 had season tickets for several years and quite used to seeing 3 or 4 productions a year ranging from classical to modern ballet. When I saw that Katherine Locke had released a new adult novel based in the world of ballet I was very intrigued to see how she would approach the story. Because new adult romances (at least in my experience) tend to have a lot of angst and emotional topics, I knew it wouldn't be an easy read, and I had high expectations. I'm happy to say that this story met all of them.
Zed and Aly have been friends since their teenage years, when they first started out their ballet careers. Things were going along well, and their relationship had slipped from friendship into something more intimate when a devastating car crash destroyed Zed's leg , and seriously injured Aly. While both were recovering in the arms of their families, they disconnected, the grief and pain of loss being too much to handle and spent 4 years apart, during which time Aly went back to her ballet career and Zed moved on to teaching music and theatre. Now Aly is back, having run into Zed while on leave from her ballet company for mental health issues. Can the ashes of their love be rekindled?
When I say that a new adult romance usually has emotional issues to contend with, this story provides a prime example of that. On the one hand you have Zed, a strong and independent man for whom ballet was his life, until the accident took away his career and his future. He ended up with a prosthetic leg and sunk into an alcoholic depression before regaining his sobriety with the help of AA and finding a new career in music and theatre. Then you have Aly, a principal dancer who has thrived in the ballet world and all it entails, including suffering from an eating disorder in the never ending quest to remain thin and pliable. Along with that, the grief and pain of the accident has never really left her and she's now suffered a mental and physical breakdown. A lovely matched pair indeed! It's safe to say that without the accident the intensity of the ballet world would have most likely resulted in some troubles for them, especially with Aly and her eating disorder. But the accident changed everything for them, and instead of relying on each other to cope, they abandoned each other – not really willingly, but aided by their families and the grief it was just easier to grow apart.
When they meet again after their separation, it is a tentative relationship. The only thing they had in common before was ballet – and they don't have that anymore. While it seems easy on the one hand to slip into old habits together, the ones of friendship and companionship, they no longer have the link that held them together and they will have to forge new connections if they want to consider a future relationship. It's obvious that they still have strong feelings for each other, feelings that have lain dormant and are returning in full force. But it's going to take more than that to make their relationship work. I felt empathy for Zed in particular, as he is frustrated by Aly's refusal to consider doing something other than ballet, even though the stress and tension of remaining a principal dancer has driven her to her current breakdown.
I found the behind the scenes look at the ballet world, including the descriptions of various ballets and techniques to be very interesting. Being familiar with ballet already, I understood much of what was being described but I think any reader new to ballet would easily be able to follow it. Ultimately the story is about two twenty somethings at a crossroads, one that could bring them back together or tear them apart for good. I loved how the story progressed, and the romantic relationship between Zed and Aly was interesting and unique. They get their happy ending in this story and it is well deserved.
Book Info:

Publication: April 13, 2015 | Carina Press | District Ballet Company #1
Four years ago, a car accident ended Zedekiah Harrow's ballet career and sent Philadelphia Ballet principal dancer Alyona Miller spinning toward the breakdown that suspended her own. What they lost on the side of the road that day can never be replaced, and grief is always harshest under a spotlight…
Now twenty-three, Zed teaches music and theatre at a private school in Washington, D.C. and regularly attends AA meetings to keep the pain at bay. Aly has returned to D.C. to live with her mother while trying to recover from the mental and physical breakdown that forced her to take a leave of absence from the ballet world, and her adoring fans.
When Zed and Aly run into each other in a coffee shop, it's as if no time has passed at all. But without the buffer and escape of dance—and with so much lust, anger and heartbreak hanging between them—their renewed connection will either allow them to build the together they never had… or destroy the fragile recoveries they've only started to make.