Secret Crush Seduction by Jayci Lee is a sexy friends to lovers/sibling's best friend romance and the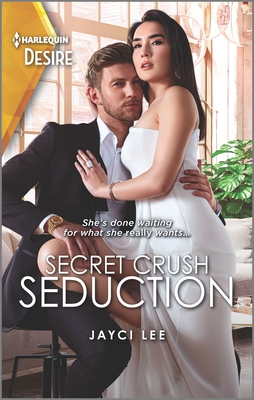 second story in the author's Heirs of Hansol series.
An aspiring fashion designer, Adelaide Song knows that in the eyes of her family she's flighty and not committed enough to the family company and vows to prove them wrong, and especially, to get the approval of her staunch matriarch grandmother. She comes up with a charity event to highlight up and coming designers with the theme of creating clothing for clients on the autistic spectrum and just needs someone to help with the publicity and public relations. The perfect person is Michael Reynolds, her brother's best friend and her childhood crush. But now that she's an adult, and they are working in close quarters, could that crush turn into something more?
I enjoyed many things about this story! The setting and the plot are interesting and I loved the idea of creating outfits for people who are more sensitive to touch sensations found in everyday clothing. The worldbuilding of the fashion industry and the Song family's business is complex and detailed. Adelaide's grandmother runs the company and her word is the final one, so Adelaide knows she has to succeed with her charity event to prove that she deserves a real place in the company as a fashion designer herself. The Korean culture is an integral part of the story and captures the family dynamics really well.
Michael has always had a good relationship with the Song family and has seen himself as a big brother to Adelaide – until recently when he realizes the beautiful young woman she is, smart and talented. His attraction to her leads him to be a bit overbearing at the beginning of the story, and there's a bit of the 'your brother will be angry if I date his sister' vibe, but it smooths out as he and Adelaide admit to a mutual attraction, leading to some sexy love scenes. The conflict comes in when they have to figure out whether revealing their relationship will negatively affect Adelaide's desire to be taken seriously by her family and how they'll feel about her being with Michael. In the end they figure out a way to make it work and get their satisfying happy ending. I'm enjoying this series and look forward to reading more from this author!

Book Info:

Publication: Sep 01, 2020 | Harlequin Desire | The Heirs of Hansol #2
She's done waiting for what she really wants…
"If I don't have you after that kiss,
I'll burn to dust from the inside out…"
Aspiring fashion designer Adelaide Song wants to prove she's more than just a pampered heiress. All she needs is a little courage–and the help of deliciously sexy Michael Reynolds, her childhood crush and her brother's best friend. But when her secret crush turns into an illicit liaison, Adelaide realizes mixing business with pleasure spells trouble for all her plans…