Today it is my pleasure to Welcome author
Karen Booth
to HJ!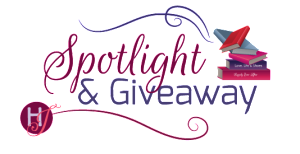 Hi Karen and welcome to HJ! We're so excited to chat with you about your new release, Once Forbidden, Twice Tempted!

Hey there, HJ readers!

Please summarize the book for the readers here: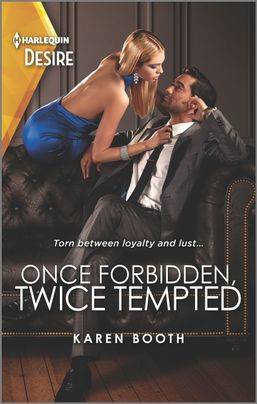 Grant has wanted Tara for years, but his best friend was in the way. Tara adores Grant but never took him seriously, especially when she was married to his best friend. Now it's years later, Tara's divorced, and her ex has passed away. With a whole lot of money and power on the line, they both must decide just how far loyalty goes.

Please share your favorite line(s) or quote from this book:
At her ex-husband's funeral:
"Johnathon would be horrified to know we're flirting at his funeral."
Grant shrugged. "He would've done the same if the roles had been reversed."

At the reading of the ex-husband's/best friend's will:
"You have my entire future in your hands and I'd like to know that I'm not going to get screwed over."
Tara kissed him on the cheek, leaving him to grapple with the resulting wave of warmth. "Grant, you're handsome and rich. No matter what life hands you, I'm guessing you'll be just fine."
Please share a few Fun facts about this book…
This series is set in and around San Diego, where my husband's family lives. We visit at least once a year, but this is the first time I've ever set any books there. Several scenes through this series were inspired by real-life events.
The first real kiss in this book comes at a San Diego Padres game, when Tara and Grant end up on the kiss cam.
The idea for this series came from my agent, who used to be an editor at Harlequin. She asked, "What about a trilogy where all three women were once married to the same guy?" It took a long time to figure out how it would work, but I made it happen!
What first attracts your Hero to the Heroine and vice versa?
Grant and Tara have a long history. They've known each other for years. Grant is drawn to Tara's strength, independence, and spirit. She's a woman who has a very strong sense of self. She's a force of nature. Tara is drawn to his intelligence and deeply caring ways. Even though she's scared to trust that he'll always be there for her, he proves it to her time and again.
Did any scene have you blushing, crying or laughing while writing it? And Why?
The scene that made me laugh AND cry is toward the end of the book. Tara is an incredibly tough heroine, but only because her life has made her that way. She doesn't let down her guard, and she doesn't cry, until it's a life-or-death matter. I will share a tiny snippet, and do my best to not give away too much, but if you can't handle spoilers of any kind, don't read this bit!
"Grant. I'm here. I'm here." She caught sight of his face—the one she loved so much, and something squeezed her heart so tight she could barely stand up. He had bruises and scrapes. One of his amazing eyes was taped shut.
"Tara," he managed, his voice raspy. He even had a tiny smile on his face. Was he delirious?
She pushed one of the nurses out of the way. "I'm sorry. But I have to talk to him." She grabbed his hand and kissed his knuckles, holding them to her lips and drinking in his smell. "You can't die on me. I won't let you."
One of the nurses laughed, which seemed horribly rude.
But then an even bigger smile spread across Grant's lips. "I'm not going to die."
Readers should read this book….
For those who love connected books, this is Book 1 in a trilogy called The Sterling Wives. It's about three women who were each married to Johnathon Sterling. I think readers will enjoy seeing the wives forge strong relationships with each other, and the heroes make it all the more complex. As for this one in particular, the dynamic between a woman and her dead ex-husband's best friend is pretty juicy.
What are you currently working on? What other releases do you have in the works?
My next two releases are Books 2 and 3 in this series—HIGH SOC IETY SECRETS comes out in October and ALL HE WANTS FOR CHRISTMAS comes out in November. As for 2021, I have an indie book out in February called GRAY HAIR DON'T CARE, a fun and funny third-chance romance about best friends from college, who are convinced love is behind them. After that, I have, a Texas Cattleman's Club book for Harlequin in April, and another Desire in August that's part of a trilogy with Joss Wood and Reese Ryan.

Thanks for blogging at HJ!
Giveaway:

I'm giving away three copies of my last book for Harlequin Desire, FORBIDDEN LUST. US winners can have their choice of print or digital. International winners will receive digital.
To enter Giveaway: Please complete the Rafflecopter form and Post a comment to this Q:

This book is set in southern California in the summer. As we're reaching the end of summer, what will you miss most?
Excerpt from Once Forbidden, Twice Tempted:
This is the Kiss Cam scene I mentioned earlier. Tara and Grant were at a very fancy party in a luxury suite overlooking the ballpark, but they both decided that was no way to watch a baseball game, so they went down and bought tickets.
With a beer in his hand and Tara at his side, Grant was having the most fun he'd had in…well, he couldn't remember a time he'd had more fun. "This was one of my best ideas, ever."
Tara popped some popcorn into her mouth, then licked the salt from her fingers. "We can definitely see a lot better. I'm just not sure it was worth it to drop five hundred bucks on seats right behind home plate when we aren't even going to see the whole game."
Grant reached over and took a handful of popcorn. "You only live once. I'd say it was worth every penny."
She cast a smile at him, which made his entire body warmer. "The view is so much better close up."
You're so much better close up.
He sat back and draped his arm across the back of Tara's seat. He didn't buy this whole notion that he was a nice guy and therefore not right for her. In fact, he thought it was complete bull. He'd proved back at the Sussex that he was capable of being a jerk when needed, and more important, he could tell that she appreciated having nice things done for her.
No, as far as Grant was concerned, the big thing standing between Tara and him was Sterling Enterprises. It was one thing for the founder's ex-wife to show up on staff because she'd inherited a chunk of the company. It was quite another for her to take up with the new CEO. There would be talk, and that would prompt questions about Grant's fitness for his role. He'd worked too hard to let a romance with Tara get in his way.
Still, he was all kinds of tempted. He couldn't take his eyes off her, even when she was distracted by the game and everything going on around them. He was only vaguely aware of the rest of the world. Her beauty demanded his focus, but it was about more that her flawless facade. He knew what was behind the pretty face and kissable lips. Tara was smart as a whip and a total handful. Full of life and surprises.
A chant of voices broke out around them, growing louder and louder. What are they saying? One word, over and over again. Kiss? Tara looked up. She pointed at the mammoth television monitor nearest them and laughed. Grant followed her line of sight and there they were onscreen, just the two of them. They looked amazing together. Absolutely perfect.
Before he knew what was happening, Tara's mouth was zeroing in on his. "We have to kiss."
"What?"
"We're on the kiss cam." She placed her hand on his cheek and angled his face toward hers.
Finally, Grant's brain clicked in on what was happening and he went for it with all of the enthusiasm of a kid who has just discovered an unguarded cookie jar. His hand shot to her jaw, then his fingertips were curling into the soft skin of her neck. With his other arm he pulled her closer. Their lips met. She was everything he'd remembered from the last time they did this. Ripples of electricity ran through his body as she parted her lips and gently nudged his lower lip with her tongue.
And then it was over. She pulled away from him, but they remained entangled. His arm was still holding her close. His chest heaved as he tried to breathe in her scent as much as humanly possible.
"That was fun," she said, the color rising in her cheeks.
"It was more than that, Tara." I want you. He wasn't sure he'd ever wanted anything or anyone as much as he wanted her at that moment. It was more than sexual desire, although that had been so firmly planted in his brain he wasn't sure he'd ever forget it. This was about quenching a thirst. One that had gone unsatisfied since the moment he met her.
She smiled and granted him another peck, this one on the cheek. "You're too handsome for your own good. You know that, right?"
"Thanks. Do you want to get out of here?" The words rushed from his mouth before he had a chance to think about them. That was definitely for the best. There was something magical about this moment and he wasn't about to let it slip between his fingers.
Excerpt. © Reprinted by permission. All rights reserved.


Book Info:
Torn between loyalty and lust…A relationship so off-limits, it could cost her everything…
Real estate agent Tara Sterling jumps at the chance to start fresh when she inherits part of her late ex-husband's company. But claiming her rightful place at Sterling Enterprises means working side-by-side with CEO Grant Singleton, her ex's best friend. Their long-simmering heat spells trouble as both vie for control of the business—and lose control of their thirst for each other…
Book Links: Book Links: Amazon | B&N | iTunes | kobo | Google |


Meet the Author:
Karen Booth is a midwestern girl transplanted in the South, raised on '80s music and repeated readings of "Forever" by Judy Blume. Karen writes contemporary romance and women's fiction, almost always about the dreamy guy you never thought you'd get. Her stories are full of breathless kisses, tearjerker moments, family dynamics, and more than a few things she's glad her mom hasn't read.
Website | Facebook | Twitter | Instagram | GoodReads |