Secret Millionaire for the Surrogate (Marrying a Millionaire Book 2) by Donna Alward: Harper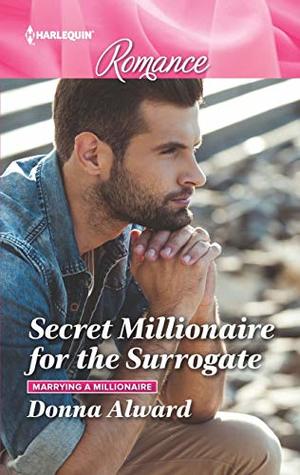 McBride is the best friend ever. She offered to be a surrogate for her best friend Adele and Adele's groom Dan.
What a wonderful wedding present. Now she is pregnant with their baby. She feels great about this but sometimes also feels concerned that she will become too attached to the little one gestating in her womb.Harper has become friends with Dan's brother Drew and finds his advice about her concerns and other life issues to be comforting.
Drew is a great friend, a friend she has become quite attacted to and may be falling in love with. Drew, on the other hand, is attracted to Harper but warns her that he has no desire to stay in one place. He has a wanderlust and enjoys going places and meeting different people. They both agree nothing can be permanent between them. Love sometimes catches people by surprise. Harper and Drew just might find that their feelings just don't fit the time scedule they set for themselves.
Secret Millionaire for the Surrogate by Donna Alward is the second book in her Marrying A Millionaire series. The author writes two characters who have plenty of interests in common but certainly do not share some important philosophies on life. Harper moved every couple years as she was growing up so she wants to put down roots. Drew believes his father gave up too many opportunities by passing up promotions that would have had the family moving. Drew isn't going to follow in his father's footstops. He likes being CEO of Aspen Outfitters and traveling a lot opening new stores. The way Donna Alward stages this story for the two to realize they can overcome their differences is fascinating. I enjoyed following along on Harper and Drew's travels to their HEA.
Book Info:

Publication: January 1st 2019 | Harlequin Romance | Marrying a Millionaire #2
They met at a wedding…
Will they say 'I do'?
It's wedding photographer Harper's job to capture other people's happy ever afters, but she doesn't believe in one for herself. Until she meets ruggedly gorgeous best man Drew. Having offered to be a surrogate for her best friend, Harper tries to fight their instant chemistry, until Drew sneaks past her defenses. But she's about to learn this extraordinary man has an extraordinary secret!
Marrying a Millionaire duet
Book 1 — Best Man for the Wedding Planner
Book 2 — Secret Millionaire for the Surrogate
"A lovely setting, well-written characters and a completely believable conflict make for an engaging read." RT Book Reviews on Hired: The Italian's Bride
"Love and romance artfully knitted in a well-written story featuring family, new traditions, and how one successful woman forged a new path in life." Goodreads on A Cadence Creek Christmas