In Prisoner of Night (Black Dagger Brotherhood #16.5) by J.R. Ward Ahmare's brother Ahlan is the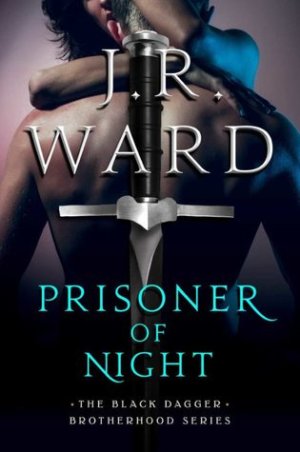 only family she has left. Which means she would do anything in her power to keep him safe. But when he runs with the wrong crowd, turning to a life she would never wish for him, Ahmare finds herself on a mission to save Ahlan. Learning she's capable of more than she ever thought possible, she is forced to work with a prisoner on one final quest to ensure her brother's return. But Ahmare is soon pondering a way to not only save her brother, but to assist Duran in gaining his freedom as well. Although she has to wonder: is it wise to trust her heart to a man who may only be after her help to free himself from his imprisonment?
"What about your brother?"
…"I'll save you both." She shook her head. "That's the way this has to end. I cannot accept any other outcome."
Duran has learned over the years never to put his trust in anyone but himself. And after spending years being brutally tortured and imprisoned, he knows if he ever gets the chance to escape, he will seek revenge against his evil captor, as well as the man who caused his abduction in the first place–his father. When Ahmare frees Duran, only to be sent on what might become a mission with no return, he gladly accepts the challenge. But being freed from his prison is disorienting. As is the extraordinary connection he feels for Ahmare. Given their situation, Duran intends to make the most of the time they have together, along with doing all he can to help her save her brother.
'Endurance, rooted in his revenge, had been his only emotion.
Not so now.
This female was not like the others, for a number of reasons. And because of that, Duran felt a protective rage overtake him.
The kind that could easily murder.'
The newest thrilling installment in the Black Dagger Brotherhood is here! Featuring two people who have a lust for revenge–and a tremendous lust for each other–while outrunning multiple assailants, how could it be anything but exciting, right?
'As they both went in for the kiss, he knew this was good-bye. One, or both of them, was not making it out of this suicide mission alive.'
Talk about a wild and crazy good ride. Prisoner of Night had my emotions up, down and sideways by the end of it all. The action just didn't stop. And the complicated emotions our hero and heroine, Duran and Ahmare, went through were so human, so basic and yet so real, that I couldn't help but commiserate with their dire situation. It was heartbreaking to learn what Duran suffered at the hands of many over the years, and when we found out about Ahmare's past. But in true J.R. Ward fashion, out of the dark and heavy came something wonderful and, to me, inspiring: Duran and Ahmare's love for each other.
I'm not sure Duran will be everyone's favorite type of hero but he melted my heart with his fierce protectiveness, his selflessness, and the inner turmoil he was going through. I loved that he had a tender more emotional side that came out in regard to his mahmen (mother) and Ahmare. And conversely, Ahmare had a steel will that she used when needed, even though she was more of a healer at heart. Ahmare and Duran made an interesting pair and a great team as they fought to save her brother and help Duran gain his freedom. The action scenes as we followed them were fast-paced and I thought really showed us what each of their strengths were, helping us get to know Ahmare and Duran even better.
Prisoner of Night was another irresistible novel by J.R. Ward, proving she knows how to weave a tale that will captivate, entertain, and fill readers with a multitude of emotions. Definitely recommended.
Book Info:

Publication: Published January 7th 2019 | Gallery Books | Black Dagger Brotherhood #16.5
From #1 New York Times bestselling author J.R. Ward comes an unforgettable story of passion and vengeance in the Black Dagger Brotherhood world.
When Ahmare's brother is abducted, there is nothing she won't do to get him back safely. She is unprepared, however, for the lengths she will have to go to save his life. Paired with a dangerous but enticing prisoner, she embarks on an odyssey into another world.
Duran, betrayed by his father, imprisoned in a dungeon for decades, has survived only because of his thirst for vengeance. He has been biding his time to escape and is shocked to find an unlikely and temporary freedom in the form of a determined young female.
Battling against deadly forces and facing unforeseen peril, the pair are in a race to save Ahmare's brother. As time runs out, and the unthinkable looms, even true love may not be enough to carry them through.