Secret Mountain Hideout by Terri Reed  follows the characters of Bristle Township who were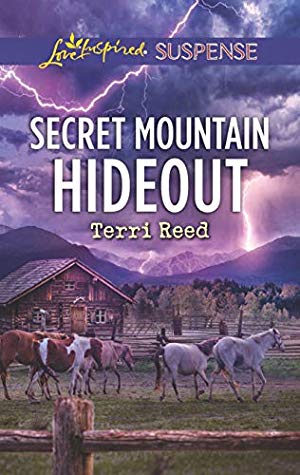 introduced in Buried Mountain Secrets. This is a real page-turner of a suspense story complete with lots of action and gunfire. The plot rolls along at a great pace.
She witnessed a murder and had to run for her life. The manager of the restaurant where she worked helped her escape. He gave her a fake ID and some money. She ran out of money in Bristle Township,Colorado. To make ends meet she got a job at the coffee shop, Java Bean in town. She knew she should be moving on but she just couldn't make herself leave this town and the freiends she had made there.
But somehow Maksim Sokolov, the owner of the restaurant where she worked and witnessed him murdering a man in the alley behind the restaurant when she was outside taking care of the garbage had found her location. Ashley knew that she couldn't hesitate and the time to leave town and find a new place to hide was now but Deputy Sheriff Chase Fredrick prevented her from getting on the bus leaving town. Ashley was attracted to Chase and would have loved to get to know him better but she needed to leave town. Now! He didn't understand the circumstances and yet he promised to protect her.
Chase has fallen for Jane Thompson, or as it turns out, Ashley Willis, her real name. He is sticking with her to protect her no matter what. As are all the members of the Bristle Township Sheriff's Department determined to keep Ashley safe. Can they keep her safe so she can testify against Sokolov? What will it take to keep her safe?
Terri Reed has written a very satisfying suspense story. I like the unity of the sheriff's department and the determination of all the officers, not just Chase, to keep Ashley safe. This author is a superb storyteller. Her readers are really going to love this book.
Book Info:

Publication: January 1st 2020 | Love Inspired Suspense |
Staying hidden has kept her alive…
But now she's been found.
A remote Colorado mountain town and a fake identity have been Ashley Willis's safe haven since fleeing after she witnessed a murder—but now the killer has found her trail. Desperate and terrified, she's prepared to run again…but Deputy Sheriff Chase Fredrick won't let her. With the lawman by her side, can she face danger head-on…and live long enough to bring a murderer to justice?