Huckleberry Lake by Catherine Anderson: Erin is a dedicated deputy, but she struggles to remain in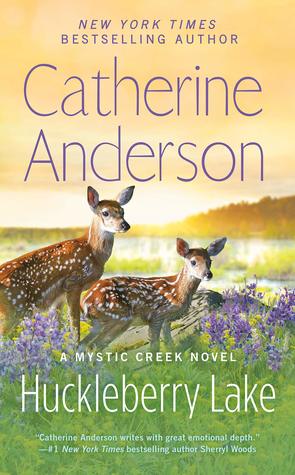 a job that isn't right for her. She's frustrated by how little of a difference she seems to be making and longs to follow her own dreams instead of those of her parents. Erin is smart, strong, feisty, and competitive. While she would like to date, most men aren't interested in her profession.
Wyatt loves ranch life. He loves the wide, open spaces and working with animals. The animals don't care or treat him differently because he's deaf. He's made a home for himself and his younger brother on the ranch and one day he'll run his family's ranch. After a terrifying experience, Wyatt has sworn off women and dating.
Erin enjoys the slower pace of Mystic Creek compared to a larger city, but it's slim pickings in terms of a dating pool. It doesn't help that the one man she's attracted to is determined to avoid her at all costs. Wyatt doesn't want to be attracted to Erin, yet she gets under his skin. He likes all the things that she hates about herself, but he's reluctant to ever get involved, much less with his boss' niece.
"I'm not a hothouse orchid. I can work as hard and efficiently as any man you put me up against."
"Whoa. I'm not putting you up against anyone. Get that kind of thinking straight out of your head. I know you pushed yourself today, and that isn't necessary. Ranching isn't a male-dominated field. It never has been."
After a long overdue conversation, Erin and Wyatt agree to become friends. Both struggle with their feelings as their conversations seem so natural once dating is off the table. When Erin decides to leave law enforcement for good and take a job as a ranch hand and reporting to Wyatt, things get interesting. They can't avoid each other and they challenge each other to recognize and address their baggage.
"I never thought about it like that."
"Well, start."
"Where are you trying to go with this, Wyatt?"
"I'm trying to make you realize that the only way for you to be happy, really happy, is to accept yourself for who and what you are."
Huckleberry Lake is heartfelt, heartwarming, and emotional. Catherine Anderson crafted complicated characters with heartbreaking histories. Ms. Anderson weaved together multiple storylines with humor, tragedy, surprises, and family. Huckleberry Lake can be read as a standalone in the Mystic Creek series. Fans of RaeAnne Thane and Abbi Waxman will enjoy Huckleberry Lake.
Book Info:

Publication: December 31st 2019 | Berkley Books | Mystic Creek #6
Love blooms once more in the quaint town of Mystic Creek, Oregon, from the New York Times bestselling author of Strawberry Hill.
Erin De Laney came to Mystic Creek hoping that the slower pace might rekindle her enthusiasm for law enforcement. Instead she feels as frustrated as she did in the city and when her disillusionment with the job increases, she takes a position on her uncle's ranch.
Her life has enough complications without her attraction to handsome, deaf cowboy, Wyatt Fitzgerald, the foreman on the ranch. Wyatt has sworn off dating, and Erin fears that nothing she does will ever change his mind. Yet while working with an abused horse under Wyatt's guidance, Erin comes to better understand herself. She also learns that love can heal almost anything.
Wyatt yearns to take Erin into his arms, but he's hesitant to pursue a romantic relationship. When their work sends them out alone together into a wilderness area, Wyatt is even more determined to hold Erin at arm's length.
But out of their time alone together on the mountain blossoms a chance for a once-in-a-lifetime love if only he's willing to give her his heart and make her his.