In Secretly by Debra Kayn, Angie Swanson's life is at it's worst. She was once a popular masseuse in Seattle working for an exclusive spa. But at the crucial point, a less knowledgeable or worthy masseuse was given the promotion that should have been hers. Then the spa closed down leaving her without a job. Now she is back in Deadhorse, Oregon living with her brother Drew, working with him at his gas station while she tries to find a way back to Seattle.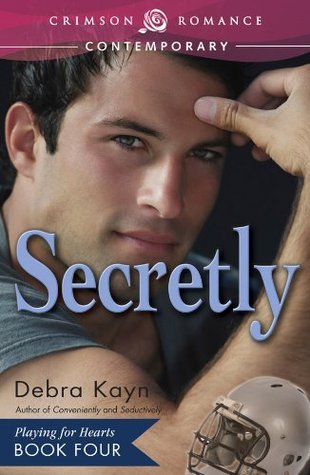 When Angie sees Gary Satchel waiting at the station, she knows this is her chance to get back to Seattle. If she can just convince him to allow her to live with him for a couple of weeks while she finds a job and a new apartment, she will be able to fulfill her dreams. But convincing Gary will not be easy.
Gary is the wide receiver for the Seattle Seahawks, wanted by many women, but unable to act on what he wants. He fell in love and has wanted his best friend's sister for many years, but doing anything about it would not only put his friendship with Drew in jeopardy, he would risk loosing what he considers his only family. So when Angie asks him to allow her to live with him for a couple of weeks he knows that he cannot accept. He can help in another way he can
To Angie's surprise, Gary is in Deadhorse to give her and Drew some great news. she soon learns that she has a job for the Seattle Seahawks thanks to Gary's help. But now she needs to convince Gary to allow her to live with him until she finds a place of her own.
What seemed like a simple enough arrangement is not so simple once Gary has Angie under his roof. For not only is his life so much easier, brighter and better with her there, he cannot even think about her not being under his roof again. But his determination has him taking her to look at available apartments under her budget, unfortunately none are safe enough for her as far as he can tell.
What was supposed to be a short stay soon turns into a long one with complications on the horizon. For the attraction and chemistry that they have both been denying will flare brighter the longer they are together, and Angie will not have as much restrain as Gary does. But now they have another complication, for there are rules against them fraternizing and one or both could lose their jobs too.
Things will get very complicated for Angie and Gary, but they will also get very hot. And only under these circumstances and the pressure they are put under will they be able to realize what is truly important and what is worth fighting for and what is not.
For a fun, hot and entertaining read, don't miss Secretly by Debra Kayn.
Book Info:


January 6th 2014 by Crimson Romance
Angie Swanson's life couldn't get more pathetic. Once a popular masseuse in Seattle, she's now the super-pumper at her brother Drew's gas station in Deadhorse, Oregon. When her brother's best friend, Gary, arrives in town, she finally sees her way out of the hell she's in. If she can convince Gary to let her live with him in Seattle, just for a couple weeks, until she lands a job, she'll do anything for him.
There's no way in hell Gary Satchel, wide receiver for the Seattle Seahawks, will let Angie live with him temporarily. His best friend, Drew, would kill him if he found out he's lusting after Angie. He only traveled to Deadhorse to give Angie the good news that the Seahawks hired her to work alongside their physical therapist and to have Drew take a look at his Camaro. But when Drew pulls a "bro favor," he finds himself up to his helmet in trouble.