In Seduced by Fire by Tara Sue Me, Julie has always felt like something has been missing from her life, she has never truly felt fulfilled. While working in the flower shop she owns with her friend Sasha, she meets Daniel…there is an instantaneous attraction, despite Sasha's assertions that Julie could never be the right woman for Daniel. When they meet up again and get together at an event Daniel has hired Julie and Sasha's flower shop to decorate, the sparks really fly and a night of passion follows. Daniel has something he's hiding from Julie though, he wants to explore what they might have without scaring her off.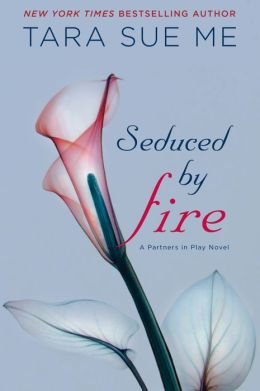 When Julie tentatively sets out to explore BDSM and what it's all about, Daniel can no longer keep his secret…since he is the Master Dominant at the club meeting Julie attends with Sasha, who is openly a submissive and happy with her life choices. Julie is more and more open to the idea of submission, even though a part of her still rejects it as wrong, it excites her, it feels like the part of her she has been missing.
Daniel has felt the connection to Julie from the start…he senses her submissive side even before Julie acknowledges it. Daniel wants to be the one to guide Julie, he wants her submission. Both Julie and Daniel crave more of each other, and Daniel patiently guides Julie as they both start to care more and more about the other.
Just as they are coming together though, Julie is faced with the dangers that can happen with BSDM. This makes her take a huge step back and re-evaluate…is this her? Or is she willing to go unfulfilled forever to avoid the risks? The lifestyle as a submissive involves a huge amount of trust…does she trust Daniel enough? Can she separate what has happened from her and Daniel's relationship?
Tara Sue Me gives us some great characters in Seduced by Fire. Julie and Daniel have an instant attraction…before they even know the more secret sides of the other. It was fun to accompany them on their emotional journey – both the highs and the lows. I would have liked more background on both Julie and Daniel to get a better grasp of what made them who they are today (as whole people, not just the BDSM lifestyle), but I found them both to be like-able with real feelings that anyone can relate to. Julie is as honest as she is nervous and unsure. Daniel hasn't had a commitment to anyone for a long time, but Julie just might change that. He is patient, takes things slowly, and his priority is putting Julie first, no matter how hard that might be sometimes. He is very dominating but in a nonthreatening way, and the way Tara explains the relationship between and Dom and a Sub is clear. I really would have liked more written about what Julie and Daniel's relationship looked like outside of the bedroom/playroom though.
A lot of Seduced By Fire is taken up with Julie learning to be a submissive, which is interesting and good reading, but things really take off when the risks and the trust involved is brought to the front. Once this happens, Seduced by Fire moves along much quicker.
Tara writes a well flowing, easy to read book in Seduced by Fire. There are intense emotions and very expressive scenes, but she doesn't take it all the way which makes this a great book to start with if you are new to BSDM reading. Lessons of self acceptance, trust in yourself and your partner are some of the feelings explored in Seduced by Fire.
I'd recommend Seduced by Fire to romance readers who like it steamy with some BSDM.
Book Info:

Published March 4th 2014 by NAL Trade
Tara Sue Me became a worldwide phenomenon with the Submissive Trilogy. Now she presents a scorching tale about a risky passion too hot to ignore.…
Julie Masterson craves a taste of danger.
Despite being familiar with the different games people play in the bedroom, she's never given in to her curiosity about putting her body in someone else's power—until a chance meeting with Daniel Covington, the seductive Senior VP of Weston Bank, draws her into a titillating new world of sexual experience, one that she never knew she desperately needed.
Daniel is highly respected within his community, but he hasn't had an exclusive relationship for over two years. Yet Julie's eager innocence is driving him to the brink of ecstasy, making him rethink his feelings about commitment.
As their sizzling connection heats up, Daniel is ready to take Julie fully under his command. But when the dangerous side of their play rears its ugly head, Julie will have to decide if she trusts him enough to surrender completely—or if she should escape before she gets burned…