Secrets Made in Paradise by Natalie Anderson With ripples of fairy-tale like magic sprinkled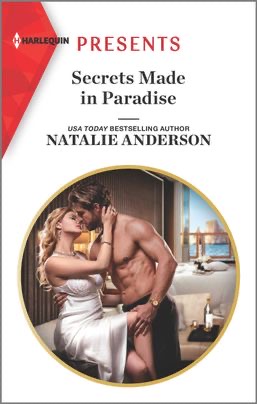 throughout, and a sort of thrum of rags to riches, Secrets Made in Paradise explores what happens when you try to distance yourself from your past, close yourself off to the world and invariably try to prevent anything from penetrating your self-protection shields. And then, it takes a classic HEA step further to implore, that in matters of the heart, the vulnerability risk is worth the reward.
Set in and around the Galápagos Islands, there is an inherent 'summer forever' vibe throughout the entirety that successfully captures the spontaneity with which our romantic couple Emerald and Javier meet and accidentally reunite. Having shared a steamy summer fling, resulting in Emerald being pregnant with her son Luke, it is by happenstance that Javier spies her and her small child on a street and realises that he is a father and indeed, must make every effort to demand his place in their lives.
Whilst there were many moments of implausibility and a few expected cliches tossed about, mostly when Javier marches back in to Emerald's life with her agreeing to just float away on a magical mansion yacht for 18 months to recover Javiers time lost with his 9 month old son Luke, and of course he lied about his name when they met because he is a hot bazillionaire, irrespectively, Secrets Made in Paradise was well written , simple and didn't go too overboard on the emotional vacillation.
Both characters had some substance, and whilst a little extreme in the rags part of the riches, or rejection part, as was the case for Javier, both romantic hero's battled trust demons and found themselves on the precipice of throwing caution to the wind for the sake of their happiness together. Quite classically, Secrets Made in Paradise is a sweet and steamy reminder that sometimes we don't know what we really want and who we really are until we are faced with losing what we really love the most.
Book Info:

Publication: 1st August 2020 | Harlequin Presents |
Reunited by business…
Seduced for pleasure!
Emerald Jones is exactly as Javier Torres remembers from their passion-fueled night. But the ruthless Spaniard has no time to play nice! If returning to the Galapagos Islands for business and discovering Emmy never left wasn't shocking enough, her secret is…
All Emmy wants is Javier's promise he won't disappear from their son's life the way he did hers. His insistence they stay aboard his luxury yacht is far too intimate…because revisiting their electrifying attraction is something Emmy won't be able to avoid—or resist