In My Fallen Saint (Fallen Saint #1) by J. Kenner, Ellie never saw herself returning to her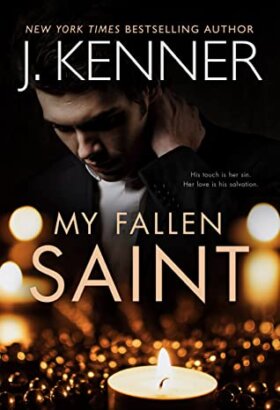 hometown after losing everyone she ever loved before she even finished high school. To say the loss of her family and the only boy she's ever cared for changed her is putting it mildly. It led Ellie to a brief but important career as a cop and then leaving Laguna Cortez, California, behind for New York City to become an investigative reporter. But now she's back in the one town she hates. And Ellie had no idea that her past would resurface almost the instant she drove into the city limits.
'It's very clear that he understands the extent of his own power.
It's overwhelming. And more than a little exciting.'
Ellie's interview with Devlin Saint, an enigmatic philanthropist who stays out of the limelight, brings about a whole host of questions. Many of which tie into her harrowed past. Sure he's sex personified. But Ellie can tell that Devlin is hiding something from her–from everyone, really. Even after he warns her to back off, the journalist in her won't let her give up until she finds out the truth about Devlin's background, as well as what he's not telling her about his current life. Ellie will learn the hard way that when her past and present collide, it could leave her life–and her heart–potentially in shambles.
"I mean it, Ellie. Leave Laguna Cortez. Don't play with fire. Put it all behind you for good. Me. This town. Everything. Leave," he says, his eyes as hot and predatory as a wolf's. "And don't come back."
Delicious romance. Traumatic pasts. And a bond that could not seem to be broken. My Fallen Saint begins a scintillating new series by J. Kenner that just might rival Damien & Nikki's exciting books.
'I'm standing in front of Devlin Saint, and I'd do well to remember that…
He's power and strength and danger combined, and I don't know how I never saw it before.'
I really think readers are going to flip when they meet Devlin Saint. He was mysterious. Broody. Sexy as all get-out. And he was obviously hiding more scars on the inside than the ones visible on the outside. He skimmed the line between good and (possibly?) bad. I think that was what captured my attention the most was how Kenner made me wonder if Ellie could truly trust Devlin and what he was hiding behind the philanthropy endeavors he was known for. But even if he had a darker side, it felt like there would be a reason for it. And that Devlin would be looking out for the greater good–as a way to help others.
Told strictly from our heroine Ellie's POV, we watched as she recalled her painful childhood and led us right up to how she became an investigative journalist. Her way to handle the lack of control in her past kind of surprised me. Let's just say Ellie was an adrenaline junkie and it came back to bite her when Devlin entered the picture.
They had an instant attraction, but with their complicated pasts, it was dangerous for them to be in each other's lives. Even though Ellie was exactly what helped Devlin feel grounded and he was the first man to make her actually *feel* anything again. Things left off in a good place where there wasn't a huge cliffhanger at the end for them, but it was enough of a lead-in to book two that it will pique reader's interests.
What is it with J. Kenner's sexy heroes that we just can't get enough of them? My Fallen Saint introduced us to a fascinating new alpha to adore and a tenacious new heroine to admire. Highly recommended.
Book Info:

Publication: September 15th 2020 | Martini & Olive | Fallen Saint #1
His touch is her sin.
Her love is his salvation.
Charismatic. Confident. Powerful. Controlling.
A brilliant investor with a Midas touch, Devlin Saint turned a modest inherited fortune into billions, and now operates one of the world's foremost international philanthropic organizations. He's a man determined to help the underprivileged, to fight injustice, and to make the world a better place. And that, at least is true.
It's not, however, the full truth.
Because Devlin Saint is a man with a dangerous secret. One he'll do whatever it takes to protect. And when investigative reporter Ellie Holmes turns her attention to an unsolved murder, she finds herself caught in a web of intrigue and passion as Devlin draws her closer and closer. But as the intensity and sensuality of their relationship grows, so do Ellie's suspicions. Until she is no longer certain if the heat between her and Devlin is real, or only a facade he constructed to hide his dark and twisted secrets.