Today, HJ is pleased to share with you

JP Roth's

new release: 

Ancient Dreams

"My tale starts with a 'once upon a time'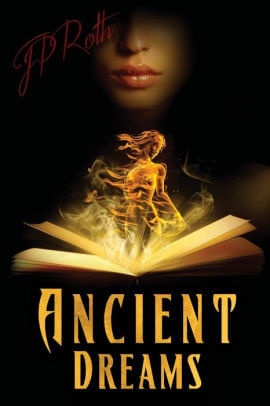 A long time ago, beings lived who could control the elements, immortality, and time. We called them gods and gave them our worship. They played with us like toys, took our lives and sabotaged our love. Now, the gods are myths. Stories in books—not to be confused with our modern world. I believed this until I found myself tumbling into a dream. This dream takes me to another life. To a forgotten time in a bloody age. I dream of Hades's son and a lustful goddess. I dream of limitless power and revolving time. I dream a death and love that was mine…
My name is Cara Wynter— and this is my story."
Cara Wynter is a literature student living with her twin sister, Lily, in Fairhaven Washington. A daughter of witches, touch brings Cara only pain, and dark visions of pasts and futures she can rarely change. Already fighting to exist in her strange reality, she begins to crumble when the reoccurring dreams of her own death begin. In a desperate attempt to unlock the secrets in the violent images, she finds herself lost in a contest between love—and the will of the ancient gods. With only forgotten memories and the pages of a book to guide her, she struggles to understand her past and break a deadly curse. Cara must face her worst fears—to save the soul of a god she has treasured for centuries, and a love she cannot live without.
Enjoy an exclusive excerpt from Ancient Dreams 
I put the ten back on the bar and blew him a kiss. "Goodnight Larry."
He caught the kiss mid-air and slapped it on his check. I turned and walked
away. A picture by the door caught my attention, a Polaroid of Lily and I
titled 'Good ol' Days'. Larry had nailed our fake IDs right under our photo.
To the left, he garnished the wall with a red smiley face. I took a step closer
and ran my fingers over the crooked red smile. I hardly recognized the Cara
staring back at me from that frozen image. Beneath the heavy eyeliner and
overly thick mascara was a wide eyed innocence I lost when the dreams
began.
Head down, I opened the door. In the back of my mind I heard a little
girl crying. I ignored her, took a deep breath, and stepped into the rain.
While my feet took me to my car, I whispered the little phrase repeating in
my mind for these past twelve days.
"Last night I dreamed of pain. Now, I dread the peace of sleep, for fear
the dream remains."
Excerpt. ©JP Roth. Posted by arrangement with the publisher. All rights reserved.


Giveaway:

$10 Amazon Giftcard.
To enter Giveaway: Please complete the Rafflecopter form and post a comment to this Q:

What did you think of the excerpt spotlighted here? Leave a comment with your thoughts on the book…
Meet the Author:
JP Roth is an American Novelist, and owner of Rothic comics, founded in 2012, through which she has produced and published five of her original series. JP Roth lives in Long Beach, CA with her beautiful family, and their adorable Bichon Frise. She spends her days writing fanciful stories, walking on the beach, and attending comic conventions across the globe.
JP Roth was born overseas, and spent her life roaming the world. She still enjoys travelling to exotic locations, but admittedly prefers to stay home, wrapped in a soft fluffy blanket, drinking, tea and penning her next novel.