Secrets of a One Night Stand by Naima Simone: Achilles Farrell decides a one night stand is just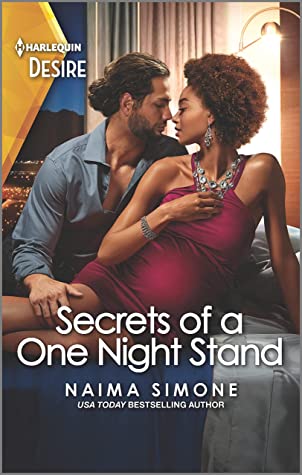 what he needs when he meets a beautiful woman at a bar. After a night of fiery passion, he doesn't think he will ever see Mycah again. Imagine both of them totally shocked when she ends up at an interview at his family's business. Will they be able to keep a distance from each other and stay professional?
Achilles grew up with only his mother and never knew who his father was. He was still able to build a business and lived a simple, isolated life in Washington state. He is surprised when he gets a notice that his biological father has died and he is now to work for a year with his half brothers in the family business in Boston. He still keeps his distance from these brothers since he is not sure about them.
Mycah Hill has a complicated family life with parents who are all about appearances and expect her to help them keep up their lavish lifestyle. The only thing that keeps her in this difficult co-dependent situation is her younger sister.
The chemistry between Mycah and Achilles is scorching hot from the beginning. If you like extra hot love scenes, this is the book for you. I didn't really relate much to the two main characters until later in the story when they shared more of their backgrounds and deeper feelings. Under his gruff exterior Achilles has a very tender heart.
I would have given this novel a higher grade, but I was very put off by the overuse of "the f bomb" , which started from the beginning. I'm not a prude and love a hot romance. I just feel that the use of too much profanity detracts from the storyline for me.
Despite all that, I would like to read about brother Kenan in The Perfect Fake Date.
Book Info:

Publication: August 24, 2021 | Harlequin Desire | Billionaires of Boston #1
She said yes to one night with a stranger… Now she's pregnant and that stranger is her boss! Only in this Billionaires of Boston romance from USA TODAY bestselling author Naima Simone.
She told herself it was one night. Nothing more.
But her heart knew the truth…
Finding out her previous one-night fling is her new boss is the shock of Mycah Hill's lifetime. She can't say no to being VP for software CEO Achilles Farrell—she's finally made her career dream come true. But knowing he's so close… It's only a matter of time before she's back in his arms. It can't end well. Achilles's tortured family history means he's not up for sticking around long-term. But Mycah's surprise pregnancy is about to change everything…
From Harlequin Desire: A luxurious world of bold encounters and sizzling chemistry.
Love triumphs in these uplifting romances, part of the Billionaires of Boston series:
Book 1: Secrets of a One Night Stand
Book 2: The Perfect Fake Date