The Naked Fisherman By Jewel E. Ann: Reese is headed to Colorado for the summer to reconnect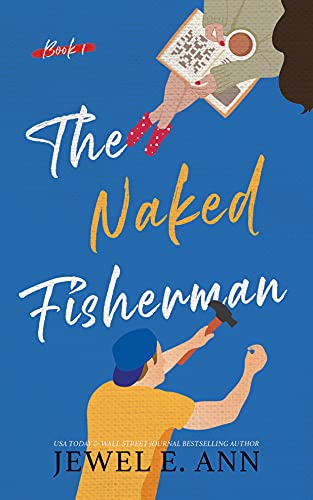 with her mother after being separated for the past five years after her mother got arrested. Fully intending to spend this time trying to reconnect and build their relationship Reese definitely did not expect her mother to leave her for a month due to work. Left to stay in the basement apartment that her mum rents Reese is in for a tiny bit more than she had planned for in the form of forever shirtless sexy landlord Fisher Mann. For the first time in her life Reese can't help but feel all kinds of new emotions and desires all of which are very much linked to the broody Fisher, however will Reese be able to roll with these new feelings and being so far out of her comfort zone or will this little crush end up breaking her heart?
"I liked the idea of him feeling as drawn to me as I felt to him. It made me feel like we were equals in this, whatever this was."
An absolute deliciously forbidden sizzling age gap romance that will have you flipping those pages at rapped speed! I loved every single moment of Reese and Fishers story, these two packed in that steamy chemistry in buckets! Normally the age gap/virginity trope isn't a favorite of mine but I will say Jewel has done a great job with it in this book, with a hero like Fisher it was impossible not to get invested!
"His touch never failed to jolt my pulse out of rhythm, never failed to rob my brain of blood and sensible thoughts."
I absolutely loved the will they or won't they pull between Fisher and Reese, the chemistry and connection these two characters shared and created was perfectly paced and flowed very naturally. I have to say I did lean more towards Fisher than Reese. As much as I liked that we got to see a very real and relatable view through Reese's eyes I just felt that there were a few parts that she came across as judgmental. However for the most part I enjoyed watching her find her feet in this more grown up side to her life.
"You won't regret the bad decisions you make now. You'll only regret the missed opportunities to make mistakes and live."
Hands down the star of this book has to be Fisher! Gosh did this guy know how to corrupt innocent Reese. I absolutely loved that he was so honest and completely himself throughout the novel, this was one of the things that made him so appealing. I absolutely loved watching getting to see Fisher opening Reese up to new experiences and a whole world of exciting possibilities.
"Fisher was the most glorious addiction. And I wanted him. All of him. And I knew what that meant, but I didn't care."
The Naked Fisherman was one heck of a ride that left us on a major cliffhanger! I absolutely can not wait to see what Ann has done with the second half of Fisher and Reese's story, one thing I do know is that this book is an absolute must read!
Book Info:

Publication: September 30th 2021 | Jewel E. Ann LLC | Fisherman #1
It's official.
I'm eighteen and a young woman with endless possibilities on my way to reunite with my mom in Colorado after five years apart—she had a little weed incident in Nebraska.
At the airport, she springs the news on me … she's leaving for a month of job training. And me? I'm left on my own in the basement she's renting from the fisherman, aka her landlord who lives upstairs.
He's ten years older than me. Never wears a shirt. And makes it hard to remember all the things I learned at Christian Academy.
Did I mention he's also my new boss?