In Secrets of a Powerful Man by Chantelle Shaw, Salvatore Castallano wants to hire the best speech therapist money can buy to help his daughter Rosa learn to speak, and Darcey Rivers is the best. Too bad Darcey's not available for the job. Having just lost her position at the hospital when the budget for the department was cut, Darcey is planning on a long vacation before returning to start her own practice. But Salvatore isn't about to take no for an answer.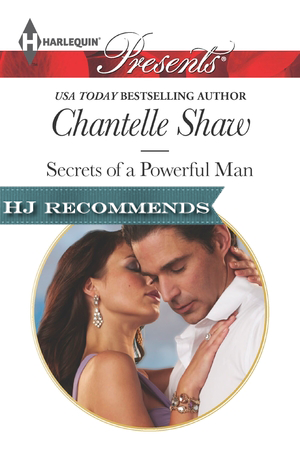 Upon meeting little Rosa, Darcey is unable to refuse to help the little girl. Even though it's clear that Rosa and Salvatore love each other, it's equally clear that Salvatore doesn't know how to express his affection for his little girl. Salvatore doesn't want to talk about the reasons he's unable to express his love for his daughter, or the accident that stole a large part of his memory.
Darcey is battling a painful past of her own. Still dealing with the effects of her recent divorce, she's determined to make a new life for herself. Even as attraction simmers between them, Salvatore and Darcey both jealously guard their secrets, allowing those secrets to fuel their present decisions. Can these two damaged people share the secrets of their painful pasts and enjoy a passionate future together?
'You can try to kid yourself all you like, but this isn't going to go away for either of us.' He leaned over her, placing his hands flat on the bed on either side of her head so that he could stare into her wide green eyes. 'Your eyes give away your secrets, cara. They tell me you are interested in me.'
Secrets of a Powerful Man by Chantelle Shaw is one of those stories that does angst right. Salvatore and Darcey are two damaged characters whose actions are motivated by the tragedies and disappointments of the past. Even when Darcey's or Salvatore's actions frustrated me, they made absolute sense given the background of the characters. I love the characterization of Salvatore. I don't read a lot of amnesia stories because they can get tedious, but Ms. Shaw does a great job with this trope. The fact that it is the hero who has amnesia is a nice change of pace, and opens up a different line of exploration that made for angst that didn't overstep into the teenage kind that no one but teenagers understand. Darcey's sweetness is tempered by her experiences with her ex-husband, making her a sweet but believable heroine. The fact that she is keeping a secret of her own, and that this secret mirrors Salvatore's experiences with women in such a negative way, adds a nice bit of turbulence to the story.
I didn't like the characterization of Lydia. I expected to feel more sympathy for her in the end. I wanted to see a bit more balance to her character's portrayal. Other than the portrayal of Lydia, I thought the characterizations were well done, the plot was solid, and the angst was kept to appropriate levels for enjoyment. I would recommend Secrets of a Powerful Man to anyone looking for a different take on an amnesia story, one that's brimming with secrets and passion.
Book Info:

Published October 22nd 2013 by Harlequin Presents (Book 3190) |The Bond of Brothers
Into the lion's den…
Salvatore Castallano is haunted by the accident that left a blank in his memory. His young daughter is the one bright light in his dark existence and he'll do anything for her… Even if that means moving a delicious temptation under his roof!
Darcy Rivers can't refuse Salvatore's proposal. Unemployed and fleeing the memories of her recent divorce, time in the grand Torre d'Aquilla castle may be just what she needs. But the closer she gets to this powerful man, the closer he gets to uncovering her secrets!