The High Price of Secrets (The Master Vintners) by Yvonne Lindsay: I love Yvonne's books, and this is no exception. However – I had some small issues with this story. I'll get to those after my summary. Here we go!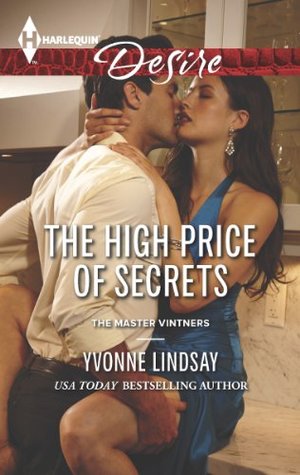 Tamsyn Masters' life was comfortable, reliable, steady. She worked at her family's winery all her life and she was engaged to marry a man with whom she was very compatible. She loved him in her own way, so when she found out his stunning secret she simply couldn't continue their relationship – especially when he said they could move on as they had been doing. This, coming on the heels of their father's death and the knowledge that her mother wasn't dead, as she'd been led to believe. There would never be a better time to find Ellen Masters and ask her how she could leave her family behind.
When Tamsyn shows up on Finn Gallagher's doorstep he's more than surprised. After all, Ellen's children from her marriage to that Masters bastard had all but ruined her life. He knew her as a woman that had a difficult time coping, although she managed to find a new life here, in the town in which he also lived. In fact, after his parents' deaths, she had drawn him in to her own family and treated her like her own son. He can't imagine why Tamsyn, the spoilt Masters daughter, has sought her mother out after all this time, but he's not about to make things easy for her.
Ellen's partner, Lorenzo – has made his wishes clear. Finn is to keep an eye on Tamsyn, but also keep her away from any knowledge of her mother and their whereabouts. It's his own idea to interest her romantically if he has to – he'd do anything for Ellen and Lorenzo. Finn has no idea that getting to know Tamsyn shows him that there are two sides to every story. Now Finn has to decide how to walk the line between loyalty and compassion. Being human and flawed has never felt so terrible.
Okay, so here's my review. I absolutely *loved* this book. Here's my caveat… I truly hated the injustices laid upon Tamsyn. Not only by Lorenzo, but by Finn himself. I get that it's actually more realistic than romance novels normally are, but her story was fairly tragic – and I had to work hard to forgive Finn. I could never do that for Lorenzo – Ms. Lindsay tried to soften him at the end, but he was really quite vindictive and not justifiably so. In fact, although there were mitigating circumstances, Ellen would NEVER have agreed to the scenario played out in the book if she had known what was going on.
My personal tendency would have been to leave Finn behind and never look back – especially after his actions that kinda piled on top of each other to a dizzying height. But I can't say that for certain, because I'm not in love with him. It's nice to say that love conquers all – so I get that – I really do. My preference would have been for Finn to reveal a bit more to her, even if he decided to follow Lorenzo's wishes. It would've saved a lot of pain all around.
Still, as I said, I loved this book. I was bawling near the end, and that's the sign of a great story for me. If a book can evoke powerful feelings, then it's written well and I connect with the characters. Just beware – it's not all sunshine and roses.
Book Info:

Published December 1st 2013 by Harlequin Desire (Book 2272) | The Master Vintners
In this Master Vintners novel by USA TODAY bestselling author Yvonne Lindsay, surprising secrets bring two people to the brink….
Protecting his foster parents means everything to Finn Gallagher. So when stunning Tamsyn Masters appears on his doorstep, looking for her mother, he does what he has to do – he lies to her. It's not as if Tamsyn hasn't done worse. And if a harmless seduction will keep her where he wants her, why not?
Now Finn has another secret…he's falling for Tamsyn. She's not what he thought, and time is running out. The choice is clear – Tamsyn or the truth. Because he can't have both.