Today it is my pleasure to Welcome author
Jenny Hartwell
to HJ!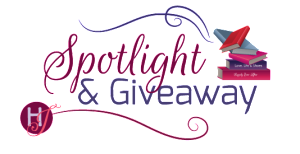 Hi Jenny and welcome to HJ! We're so excited to chat with you about your new release, My Sweet Enemy!

I am so excited to be on HJ! I cut my romance teeth on Harlequins (sneaking my mom's when I was young), so this is especially thrilling to be here.

Please summarize the book a la Twitter style for the readers here: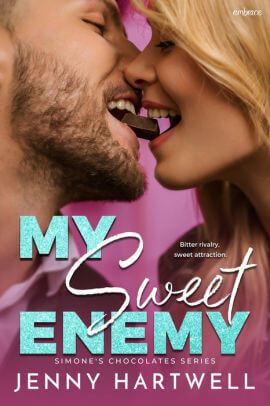 A sweetheart chocolatier & stiff MBA competing in a reality contest for a position at a luxe chocolate company find the only thing tempering their insta-hate is their heart-melting attraction. #RomCom #EnemiesToLovers #SoMuchChocoloate

Please share the opening lines of this book:
Charlotte Beecher was having chocolate for breakfast.
Again.
She bit into a still-warm truffle. Her eyes slid shut as
she chewed the caramel enrobed in dark chocolate with
a sprinkle of sea salt flakes dusting the top, the perfect
balance of sweet and briny.
God, this is delicious.
Please share a few Fun facts about this book…
My inspiration for this story was Charlie and the Chocolate Factory, but instead of 5 kids winning golden tickets to tour the factory, 5 applicants on social media win an internship at a chocolate company with the winner getting a permanent high-level job.
I did research for this book by touring two local chocolate companies. It was a tough job, what with all the samples and all.
I love pop culture and sprinkled a lot throughout the book, so you'll find Star Wars, Harry Potter, Taylor Swift, Hemsworth brothers, and other modern references in My Sweet Enemy.
There's a scene where the hero and heroine end up trapped in a walk in cooler and have to huddle together to share body warmth. Ah, the tension between their mutual dislike versus their need to press their bodies up oh-so-close together!
My book includes a girl gang. I love novels with strong female friendships and really believe in the power of ladies lifting one another up.
What first attracts your Hero to the Heroine and vice versa?
My hero, Luke, first encounters the heroine at the airport when he grabs her luggage off the carousel by mistake. He's attracted to the sparkle in her eyes, the smile on her lips, and her lovely sweetness. Unfortunately, he's determined to keep his moat filled and his drawbridge up to protect his bruised heart so he tries to shut the attraction down.
The heroine, Charlotte, feels that first stirring of attraction for Luke watching his application video. He's got these deep blue eyes behind a pair of sexy nerd glasses and her stomach just swoops with wanting! But… he doesn't smile once.
Uh oh, we've got a case of the sunshine one and the grumpy/stiff one falling for one another!

Using just 5 words, how would you describe Hero and Heroine's love affair?
"You're more tempting than chocolate."

The First Kiss…
I love this scene! After a helpful chat with her bestie, Charlotte decides to pursue this crazy attraction between her and Luke. She comes back to the loft all the interns share late at night only to find him in the kitchen in pajama pants (and nothing else! hubba hubba!) eating a bowl of ice cream. She takes the ice cream spoon out of his fingers, slides the bite of mint chip into her mouth, and after she swallows the cold deliciousness, she whispers, "Kiss me."
Without revealing too much, what is your favorite scene in the book?
I adore the scene when they get trapped in the walk in cooler together. It's such a fun mix of them being furious and also wanting to jump the other's bones! Here's a snippet:
"We h-have to share body heat." Now Luke's teeth were
chattering too.
Charlotte swallowed. Could she do it? Could she wrap
herself in the embrace of her sworn nemesis, the evilest man
on the planet? Well, there were convicted murderers locked
away for life, so the evilest man in the building perhaps?
She shuddered with cold. A sharp ache worked its way
through her skin and muscle into her sinew, her veins, her
very bones.
Even her brain began to feel frozen.
It seemed her options were to either allow this sexy man
to wrap her up in his strong arms or to perish from turning
into a human icicle. So…she supposed she would take the
sexy, evil man.
Luke raised his eyebrows at her. Charlotte nodded her
assent, and he stepped forward, folding his arms around her.
Charlotte buried her face in his chest. For a bit, they
shuddered against one another. She was still cold, but she
was plastered against him, and the front half of her was at
least on defrost level. God, this was so much better than
death by fridge.
His hands moved up and down her back, chaffing
warmth into her skin. Charlotte did the same for him, trying
to ignore the hard ripples of muscles along his back. She
breathed in, inhaling his scent of soap, man, and chocolate.
She'd found a sexy man who smelled like chocolate, and
he had to go and be the villain of her tale.
Life just wasn't fair.
If your book was optioned for a movie, what scene would be absolutely crucial to include?
Optioned for a move? YES please! So, I love a good grovel in a romance novel. The message that when you hurt someone, you must own up to it and sincerely apologize is an important one, both in stories and in real life. In My Sweet Enemy, after Luke is a grade A jerk to Charlotte, he feels terrible and enters the inner sanctum of the ladies room (gasp!) to check on her, apologize, and get his grovel on like a proper romance hero. Here's a snippet:
"Charlotte." He slowly, ever so carefully, opened the
stall door.
She stood with her back to him, her shoulders hunched
in on herself. The sight was a lance through the center
of him. He exhaled before setting a careful hand on her
shoulder.
"Charlotte," he said, keeping his voice gentle.
"Go away." Her voice sounded hoarse, and she shrugged
off his hand.
"I can't." He realized the truth of the words once he'd
spoken them. He couldn't walk away from her after what
he'd done. He would lose a piece of his soul.
When had he become such a terrible person?
When had he become his father? He swallowed.
"Charlotte, would you please turn around?" Luke said,
his voice gentle, and waited.
Finally, after what felt like an interminable amount of
time, she faced him.
"Oh no," he breathed out the words. "Oh, Charlotte."
Her cheeks glistened with tears. Her eyes were red. She
rubbed a wad of toilet paper under her nose. There was no
twinkle in her eyes, no jaunty tilt of her head.
He'd…he'd broken her. The sight of her crying was a
punch in the gut. He wanted to turn back time, take a redo,
and make her pain go away.
But he couldn't. He could only let her know how truly
sorry he was. And he could do better. He would do better.
He took a deep breath. "Charlotte, I am so, so sorry for
what I said."
She looked away.
"I was completely out of line. I was awful. A total
asshole. I was messing with you, and then I went too far.
Way too far. Those things I said, they aren't true. They're
just not." He pressed a hand against his aching chest. "I am
truly, truly sorry." He waited, regret sitting on him like the
weight of an elephant.
She shook her head, her eyes still downcast. "It doesn't
matter."
He froze at her words. "It does matter."
Readers should read this book …
Readers should dive into My Sweet Enemy because it's like a delicious salted caramel. Just like the chocolate balances the sweet with the briny, the soft interior with the solid exterior, so does this story. It has a lot of heart and tackles deep emotions, but it also has irreverent laugh-out-loud scenes. Like any good enemies to lovers romance, it starts out with prickly love interests who end up all gooey for one another. If you take a bite of this book, you'll be satisfied. I promise.
What are you currently working on? What other releases do you have planned?
My Sweet Enemy is the first book in a planned series set at the chocolate company, so right now I'm working on the next story which is about another of the interns in the competition, a fancy Hollywood lady who has an unexpected crush on the cinnamon roll son of the company's owner who also works there. He's bearded, bespectacled, and kind…and totally the opposite of her Maserati-driving producer ex. Opposites attract can be a lot of fun, and I adore this story.
Thanks for blogging at HJ!
Giveaway:

To thank you all for hanging out with me on HJ today, I'd like to give one participant a $20 Amazon gift card.
To enter Giveaway: Please complete the Rafflecopter form and Post a comment to this Q:

Just like restaurants suggest food and wine pairings, which Valentine's Day chocolate and romance novel would you pair together and why?
Excerpt from My Sweet Enemy:
Here's an exclusive peek at Charlotte and Luke going toe to toe (or running shoe to running shoe?) on two treadmills in the gym at their shared loft:
She started out slow for a warm-up, and after a few
minutes, her legs felt loose and strong. She tapped the
button to increase her speed. Soon she was in a rhythm, her
breathing steady and sure. She snuck another peek to the
side. Luke's head snapped up and to the front. He'd been
looking at her monitor, probably checking out her miles per
hour.
Charlotte narrowed her eyes.
She glanced over at the pace shown on his treadmill
monitor. He was going faster than she was. She tapped her
speed button until she was a tenth of a mile per hour faster
than him.
Her feet pounded as the treadmill whirled beneath her.
Sweat trickled down her sternum into the valley in her sports
bra. She snuck a peek at Luke again and found him staring
at her chest, his eyes dark. She sucked in a fast breath, the
room suddenly hot.
He must have felt her stare because his gaze jerked up.
He faltered for a moment. Charlotte gasped, fearing he
would fall, but he regained his footing.
Then—slowly, deliberately—he tapped the button on
his machine. Twice. He was now a tenth of a mile faster.
Charlotte gritted her teeth. No way was the sweaty,
gorgeous jerk going to outpace her.
She gave her speed button two taps. Her legs churned
beneath her. Her heart thundered.
Luke pounded his button twice more. His breath turned
ragged as he sprinted on the treadmill.
She glanced to the side just as he reached down and
grabbed the front hem his shirt.
Oh no.
Is he going to—
Yes. Yes, he was. The shirt came up as he wiped his
face. And there were Luke's washboard abs, on display for
the world to see.
For her to see.
Charlotte's breath sawed in and out of her. It was all due
to her mad pace, though. That was the only reason her pulse
was practically breakdancing in her veins. It had nothing
to do with the eye candy. Or the sight of Luke's happy trail
vanishing into his running shorts. Goodness, it was hot in
there. She would certainly suggest to Simone or Damian
that they install more fans in the gym.
Luke released his shirt hem, and his abdomen
disappeared from view.
Charlotte jerked her gaze away. She would not be
sidetracked by gorgeous male muscles. She reached forward
and touched the speed button. She tapped. She tapped
again. She was going faster than she ever had before on a
treadmill. She prayed she wouldn't fly off the back of it and
leave a Charlotte-shaped dent in the wall behind her like a
cartoon character.
It felt like a possibility at this speed.
She challenged him with a look.
Luke, his body glistening with sweat and muscles
and pheromones and who knew what else, reached for
his machine's controls. His finger hovered over the speed
button for a moment.
Charlotte ground her teeth. If he pressed it again, she
knew she wouldn't be able to up her speed. He would win.
Her legs burned from her exertion, but the flame of anger
inside her burned even more.
Tap.
His machine slowed.
He'd tapped the off button.
Charlotte ran at her breakneck speed for a few more
seconds, but then she tapped the red off button as well.
They both hopped off their machines, staring at one
another as their chests heaved with gasping breaths.
His chest. His smooth, muscular, perfect chest that she'd
caught the barest peek at when he'd wiped the sweat off his
face with his shirt. Who knew he'd been hiding all of that
under those starched button-downs?
He was still staring at her. She needed to say something.
Something scathing and witty and…and…mean.
Mean?
Charlotte winced. She was not a mean person. Somehow,
Mr. Luke Wells with his MBA and cold face brought out a
very unpleasant side to her.
She would say something neutral instead. She would
comment on his form. Or the weather.
"Just a little warm-up," Luke said.
She stared. "What?"
He raised one dark eyebrow. "I said, that was just a little
warm-up. I usually run a lot longer, but we've got an early
start today."
Charlotte put her hands on her hips. "Seriously? You're
going to pretend that I didn't just kick your butt on the
treadmill? Fine, that's totally fine if your tender male ego
can't handle it."
He took a step closer. "Oh, I can handle it."
She took a step closer as well, the air between them
crackling.
Excerpts. © Reprinted by permission. All rights reserved.


Book Info:
Sunny chocolatier Charlotte Beecher is unemployed, in student debt, and on the verge of hawking her beloved copper pots just to make ends meet. So when a gourmet chocolate factory chooses her as one of five candidates to help re-launch the company in their Charlie and the Chocolate Factory inspired competition, Charlotte begins to see a light at the end of the tunnel.
Fellow contestant Luke Wells complicates her plans to win by a landslide with his flow charts and marketing projections. Mr. Tall, Dark, and Haughty is all about the bottom line and is as bitter as she is sweet. And when he snubs Charlotte in the first challenge, misunderstanding or not, she transforms from cream puff to jawbreaker. Bring. It. On.
But when these two rivals find themselves distracted by delicious attraction, will they let their passion get in the way of winning the competition?
Book Links: Amazon | B&N | iTunes | Goodreads |


Meet the Author:
Jenny Hartwell has a confession–she loves People magazine as much as Pride and Prejudice. Her fun, pop culture adoring side shines in her contemporary rom-com novels set in a gourmet chocolate factory while Jenny's Regency romances feature strong damsels and swoony lords. Her writing has won or finaled in numerous contests including the Golden Heart, The Emily, Four Seasons, Fool for Love, and The Catherine. Jenny lives with her family in the verdant Pacific Northwest. She loves movies, travel, and staying up late with a good book. And, of course, chocolate. Jenny is represented by Lesley Sabga of The Seymour Agency.
Website | Facebook | Twitter | | Instagram |