Seducing the Enemy by Noelle Adams: At the age of twenty-five, Marietta Edwards has lived through a lifetime. When Marietta was ten, she was in a tragic car accident that killed both the driver and her older sister. She escaped with her life, although she was paralyzed and in a wheelchair for over a decade. After many surgeries, she is finally able to walk and experience the life of a typical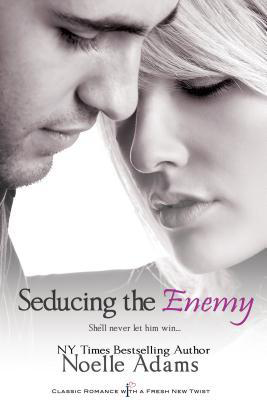 young adult. Her first order of business, seduction and hopefully her first sexual encounter. Her second order of business, helping her grandfather finally settle the heated, ongoing legal battle between her family and their enemy, the family of the driver in the accident.
The Damon family is very wealthy, powerful and prominent. Bringing shame on the family in any way is completely unacceptable. Harrison Damon is a legal guru and along with his old-fashioned uncle, run their many businesses successfully and profitably. Harrison has always done whatever was needed to please his uncle, unlike his brother Andrew and cousin Benjamin.
By sheer coincidence, Marietta and Harrison meet in one of the Damon owned clubs, and end up spending an incredible evening of passion and mind-blowing sex together. Not knowing who each other is until the following morning, they come face to face across the conference table. They are enemies and spew hateful words at each other.
Many obstacles, bizarre panic attacks, and scorching kisses occur before Marietta and Harrison see the light about their pasts and potential future. Luckily, the meanings of a few single flowers and true love can overcome even the worst circumstances.
Wow, what an amazing book. Noelle Adams has crafted a well-balanced, original and refreshing narrative that is unlike anything I have ever read. The many twists to the storyline kept me glued to my seat from beginning to end. The love scenes are sexy, hot and swoon-worthy. The characters are well-developed and thought provoking, while providing interesting exchanges and sometimes comical banter. Seducing the Enemy generates many different emotions while maintaining a firm grip on the realness of the situation. If you are looking for a steamy, well-written romance with a plot that may seem slightly unusual, read this book.
Book Info:

Publication: October 14th 2013 by Entangled: Indulgence
After being injured in a tragic accident as a child, Marietta Edwards has lived a sheltered life. Finally recovered, she wants to indulge in pleasures that are entirely new to her, so she begins by seducing a sexy, mysterious stranger. Only after their one-night stand does she learn their families have been embroiled in a fifteen-year legal battle and the man she's given herself to is her worst enemy.
The heir to a vast fortune, Harrison Damon believes the unforgettable night he spent with Marietta in Monte Carlo is just a fling, an escape from his responsibilities. Then he discovers she is an Edwards—the family he despises most. He can't quench his attraction for her, but he won't let her use it against him. He won't let her manipulate him to win money from his family. No matter how much he wants her, he won't let her seduce him again.