In Through the Smoke by Brenda Novak, Rachel McTavish has never known luxury a day in her life in Creswell, England, but she is fine with that. As long as she has her beloved mother and brother by her side and their bookstore to oversee, she will make do. However, when her mother takes ill, Rachel must decide whether or not to accept help from an unlikely source: Lord Truman, the Earl of Druridge. His help comes at a cost though as he expects her to provide information that could cause chaos in her small town. Rachel also must hide her growing attraction to the Earl. They are obviously not suited for each other and she knows nothing can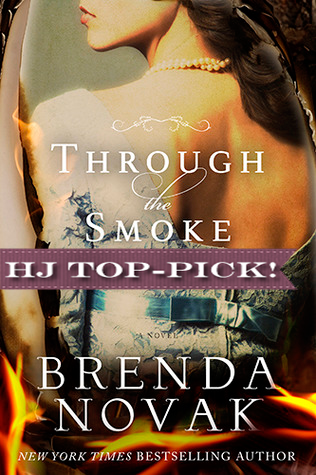 come of it. When she realizes that Lord Truman feels the same, her judgement becomes clouded. Rachel must find a way to take care of her family as well as deal with her feelings for the Earl without losing herself in the process.
'Yet it was Lord Druridge's touch, the touch of her enemy, that had warmed Rachel's blood and caused an odd awakening.'
Lord Truman Druridge feels as though he's been in hell for the past two years. After the fire that claimed his wife and unborn child, he has been searching for answers as to who set the fire. He doesn't recall the events during the fire and unfortunately many people suspect it was he who killed Lady Katherine. He admits he was furious that she was pregnant with someone else's child, but he would never have actually harmed her or his heir. In his quest for the truth, Truman comes across beautiful Rachel, who appears to hold some information he could use. The bargain he makes with her brings her too close for comfort when he realizes he is more attracted to her than any other woman he's ever known. Is he willing to risk his future and the legacy of his family to make Rachel his own?
'But he would persist, and when he could eventually see through the smoke that clouded the truth, he would know, at last, whether his soul had been worth the fight.'
Through the Smoke swept me off my feet! I am a big fan of Brenda's other work already, the Whiskey Creek series especially, but haven't had a chance to read any of her historical fiction before now. And this is a true honest-to-goodness sweeping historical romance that was a joy to read. The characters were well defined and very engaging. They drew me in right away. There were some that I loved to hate (Mrs Poulson) and some that I fell in love with instantly (Rachel). The writing style also flows nicely and is elegant, certainly befitting the mid-1800s setting quite nicely.
'Maybe Rachel was stubborn, opinionated and steeped in the philosophies of her class, but she soothed his beleaguered soul like no one else.'
The plotline is a whodunnit wrapped around the tale of two people helplessly attracted to each other, but from different stations in life. There are complex emotions, very dramatic and deep, full of yearning and longing…specifically longing for what is unattainable both romantically and financially. I loved the connection between Rachel and Truman. Because Rachel is the daughter of a coal miner and a shopkeeper she is not deemed good enough for Lord Truman. But that doesn't diminish their feelings for one another one bit.
"I do not want to be a problem for you."
A rare smile broke across his face as he fingered a lock of her hair. "Be a problem? Dear Rachel, you feel like the antidote."
I think if you're a fan of Historical Romance you will love Through the Smoke. There is just the right amount of romance and intrigue to make this a page-turner. I certainly had a hard time putting it down!
Book Info:

HJ Top  Pick!
Publication: October 15th 2013 by Montlake Romance
A shocking betrayal…
Riches. Power. An ancient heritage of pride. The Earl of Druridge wanted only for an heir. So when he learned that his wife was carrying another man's child, he was filled with a thirst for vengeance.
But he wasn't the one who caused Katherine's death. Or was he? To his horror, he remembers nothing of that dreadful night, when their last confrontation ended in scorching flame and cold blood.
A forbidden love…
Rachel McTavish, the beautiful daughter of a coal miner, knows something about the fire that took Lady Katherine's life. In secret, the strong-willed girl strikes a bargain with the desperate earl: he must send his physician to help her dying mother or he may go to the devil—and the scaffold. He agrees, but she is still unsure that her revelation will be enough to save him when so many wish him dead.
Passionately drawn to the nobleman, despite all the doubt and mystery that shrouds him, Rachel wonders if he can really be a murderer. Or if he is the only man who will ever own her heart…