In Seduction's Canvas by K.M. Jackson, Samara Leighton is an artist and a rich girl but with a domineering father. She has the life many think is ideal but the secret of her brother's death has shaped her and she cannot let it go. She has a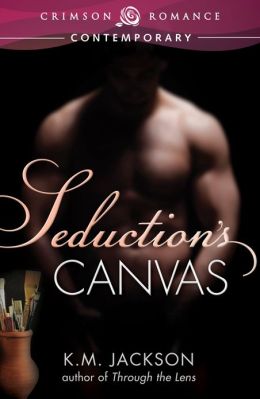 limited time to do what she wishes, for once her show is done she will have to return to the family and do as they wish once again.
And so Sam decides to take her chance and tell her sexy motorcycle-riding neighbor that she wants to paint him. She has wanted to tell him that since she first laid eyes on him, but she never had the courage. Now close to the end of her freedom she takes the chance, but that doesn't mean that her heart is not beating wildly in her chest as she waits for his answer.
Mark Thorn is a security specialist and he has his own secret regarding Sam. He does not want to sound like a hard ass and offensive in his answer, but her haughty rich girl demeanor takes him off his game more often than not.
If you read Through the Lens, you know that this is another read you cannot miss. Secrets from the past are binding both Mark and Sam but the chemistry may just be as strong if not stronger. Unfortunately those secrets bind them together in a way, but also will keep them apart until they can conquer them and be honest with one another.
For a fun, interesting, very hot and realistic read, don't miss Seduction's Canvas by K.M. Jackson. And did I say it had a hot guy on a motorcycle?
Book Info

Publisher: Crimson Romance (May 27, 2013)
"I want to paint you" Artist Samara Leighton had wanted to say those words to the sexy motorcycle rider who lived in the building ever since she first laid eyes on him nearly a year ago. But now that the words were out she couldn't stop her heart from beating wildly in her chest.
"Honey, you don't have enough paint to cover me." Security specialist Mark Thorn didn't mean to come off as a hard ass. As a matter of fact, he wanted nothing more than to let the tempting artist from across the hall do whatever she wanted to him and then some. But her haughty demeanor left the normally cool rider off his game.
Samara knew this was her only chance to live out her long-standing fantasy and she wasn't going to let it slip through her fingers. She had very little time before her show was done and the pressure of her family legacy meant she would finally go through with living out her life under the umbrella of the Leighton name and its responsibilities. There would be no more downtown jaunts, lazy museum afternoons, and evenings spent lost in the magic of color and her canvases. And definitely no time spent holding tight to the muscular form of her dark rider while the horrors of her past and her cares drifted further away with each mile of road they covered.
Sensuality Level: Sensual