In Can't Help Falling In Love (Sullivans #3) by Bella Andre, Firefighter Gabe Sullivan swore he would never get involved with another fire victim he rescued after he had a bad experience a few years ago. That is until he set eyes on Megan Harris and her daughter Summer. He is simply amazed at Megan's strength while he rescues them from their third floor apartment. She never gave up until she knew Summer was safe and then finally let herself be taken care of. Megan and Summer come to visit him in the hospital to give their thanks while he's recuperating from an injury suffered during that fire. Gabe feels an immediate connection to Megan when he looks into her beautiful eyes, and judging from her reaction, she senses it too.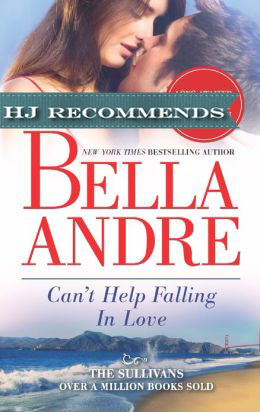 He decides to be rather abrupt with her to hopefully discourage her from seeking him out again. He can't allow himself to get close to her or to Summer. When they show up at his firehouse a while later to deliver muffins Summer baked for him though, Gabe knows he's done for. He's captivated by the seven year old and even more so by her lovely mom.
"I want you. And if you were anyone else, I wouldn't be leaving right now." Her eyes went wide at the shock of his flat-out admission. "But I already know and like you and Summer well enough to know we can't just sleep together."
"No," she said quickly, even more breathlessly, "we can't."
Wanting her more with every word they spoke about the hot sex they weren't going to have, he said, "I'd better go now."
"Yes," she whispered, "you should go."
But then, instead of leaving, he was reaching out and pulling her against him, his hands on the swell of her hips. "One last kiss."
"God, yes," she gasped out. "One more."
It turns out that Gabe's sister Sophie went to college with Megan and they get to reconnect a bit while at the firehouse. Sophie invites her and Summer to a Sullivan family holiday party much to Gabe's chagrin. He ends up driving them to the party after they have a tire mishap and once there he makes it pretty clear to his brothers that Megan is off-limits, even though he knows he shouldn't pursue her himself. Every time he bumps into her, the more apparent it is that they have a deep connection. Gabe has never been so serious about a woman before and he decides to put his self-inflicted rules aside and see where things go with Megan. The next problem is convincing her to push aside her own set of rules about not dating anyone with a dangerous job. That proves to be more challenging. He can understand her not wanting Summer to get close to someone who may disappear from her life. However, he doesn't plan on going anywhere. Unless it involves Megan and her charming daughter.
'Oh, God, what this man was going to do to her…how would she ever recover from this night? she wondered helplessly as he slowly brought her hands back down and began to move them apart. If it were just hot sex, that would be one thing. But what if he were looking to seduce more than just her body?
What if he was going for her heart, too?'
Megan's life was turned upside down by the fire that destroyed her apartment building. Not only did she and her seven year old daughter just barely make it out alive thanks to a brave firefighter, but she also can't get his gorgeous, patient eyes out of her head. She chalks it up to hero-worship…he did save her life after all. But when she is compelled to visit him in the hospital to convey her thanks, she's not ready for the sexy guy she meets. There is an instant spark between them. She becomes even more intrigued when he seems genuinely interested in everything her daughter Summer has to say. They seem to keep meeting up one way or another and Megan begins to feel like the universe is sending her a sign, although she's afraid to give in and let Gabe into her and Summer's lives. She can't go through losing a significant other again to a dangerous job. But her heart is telling her he is worth the risk. When he proves how intense yet caring he can truly be, she knows there is no way she keep her heart in check. She's already in too deep.
I am so in love with Bella Andre's Sullivans series! Each story is just as unique as the Sullivan sibling it represents. Book three is sweet and emotional because…well, so is Gabe. He's the epitome of the saying "his mama raised him right". Gabe is heroic, sexy, loyal, charming and family oriented. His job as a firefighter is rescuing people from one of the most traumatic events they can go through in their lives. And he does it not necessarily for the adrenaline rush, but instead to help people. Gabe and Megan are a match made in heaven yet neither one wants to give in to their feelings because of previous relationships. However they are certainly destined to be together. And reading about his interaction with Megan's daughter Summer just melted my heart and put a huge smile on my face. Definitely check this book out if you love hot romance with a deep emotional connection.
Book Info

Publisher: Harlequin MIRA (July 30, 2013)| 
Series: The Sullivans
 #3
How much is worth risking? 
Gabe Sullivan risks his life every day as a firefighter in San Francisco, but he knows better than to risk giving his heart again. Especially not to the woman he saved from a deadly apartment fire…and can't stop thinking about.Megan Harris owes everything to the heroic firefighter who saved her and her daughter. Everything except her heart. Because after losing her pilot husband, she has vowed to never suffer through loving—and losing—a man with a dangerous job again.
But when Gabe and Megan meet again, how can he possibly ignore her courage, determination and beauty? And how can she deny not only his strong bond with her daughter…but also his sweetly sensual kisses, challenging her to risk everything she's been guarding for so long?