In Seeing Red by Sandra Brown, Television journalist Kerra Bailey has become a well-known name in Texas after working hard and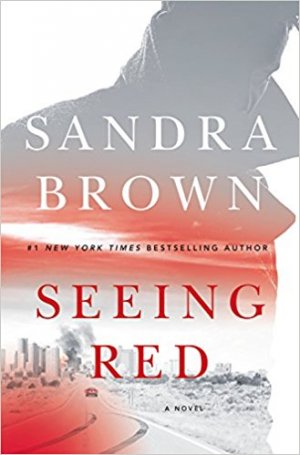 trying to keep her sense of integrity in a cutthroat business. Her next interview, however, has the potential to make her one of the most sought after reporters in the country. It will also let loose a secret from twenty-five years ago, one that her subject, Frank "The Major" Trapper, has not been privy to yet. Since his heroic act of rescuing several people from the bombing of the Pegasus building in Dallas a quarter century ago, he's given countless interviews but has recently stopped doing so. Kerra's exclusive sit down with The Major will unknowingly set into motion a series of events that will put her life–along with many others–under direct threat.
"Before you made the choice to stick with me, I made it clear that if you did, you'd be taking a huge risk."
With my life, yes, but not with my heart.
Those words were in her mind, but she didn't say them out loud.
Kerra's only choice is to trust The Major's son, John Trapper, a former ATF agent who is now a private investigator. But Trapper is very leery of her after so many years of unwanted media attention. He's been on the hunt for the truth behind the bombing that affected so many lives, something about it never having made sense to him. And the more Trapper has looked into the case, the more things seem…off. So in light of the new information Kerra provides and their pooled resources, the duo finds themselves in the bad guy's crosshairs. Even as their personal relationship heats up, taking them by surprise, they'll have to stay focused on figuring out who's after The Major or they could all wind up hurt. Or worse.
'He nestled his face in the curve of her neck and felt the first heartbeat of contentment he'd known in years.'
Filled with tons of shocking plot twists and mile-a-minute action, Seeing Red is the newest exciting thriller being released by bestselling author Sandra Brown. And you won't believe the intriguing paths she takes us on with this story.
'The more he explained, the more he baffled her. She didn't know what to believe and what not to. With seamless ease, he melded fact with fabrication and sarcasm with sincerity.'
There was so much that happened over the course of this four hundred plus page book that it's hard to know where to start! One thing I can say is that of course you know just by picking up one of Sandra Brown's books that you're in for a wild ride, with great characters and a rock solid plot. That's a given. But boy did she turn this into an incredibly emotional, tangled up mess that pulled at my heart. Between the family issues, people double-crossing each other, and the love story between Kerra and Trapper, there was definitely a lot to grab a reader's attention here.
I really loved how intricately woven all the relationships were and how I was never quite sure about the majority of the characters, whether they were on the side of good or evil. Right up until the end Brown kept me wondering. And while I guessed some of the secrets, others were rather surprising–and disheartening–when all was said and done. Even with our main characters I couldn't get a bead on if there was more to their involvement than what they were letting on. Particularly with Trapper. He was a pretty great hero when it came right down to it, but he ran hot and cold at times. I'll admit it threw me for a bit until we got to know more about what he'd been through and from there I felt like I could cheer Trapper on in his pursuit of Kerra and in tracking down the bad guys.
Kerra turned out to be a straight shooter and a woman with a good amount of compassion. She wouldn't take a lot of nonsense from people but she was willing to give them the benefit of the doubt for the most part. I liked that she didn't wield her popularity as a news journalist to get her way. Kerra was down-to-earth and wasn't looking to exploit her interviewees. I thought her reaction to Trapper, and to his father The Major, was honest and fit her personality well. I did get a kick out of the quick, sexy back and forth between Trapper and Kerra and thought their chemistry was smoking hot. Thankfully I found that it added something special to the story and didn't overshadow the true core of the plot regarding who was after The Major and who really caused the bombing twenty-five years prior.
Our main characters found out they could trust absolutely no one in this impressive and breathtaking novel. Danger, lies, and coverups dominated the storyline and kept me glued to the pages way past my bedtime. Definitely recommended.

Book Info:

Publication: Published August 15th 2017 | Grand Central Publishing |
New York Times and USA Today bestselling author Sandra Brown delivers her trademark nonstop suspense and supercharged sexual tension in this thriller about tainted heroism, cold fury, and vengeance without mercy.
Kerra Bailey is a television journalist on the rise, and she's hot on the trail of a story guaranteed to skyrocket her career to even greater heights: an interview with the legendary Major Trapper. Twenty-five years ago, the Major emerged a hero from the bombing of the Pegasus Hotel in downtown Dallas when he was photographed leading a handful of survivors out of the collapsing building. The iconic picture transformed him into a beloved national icon, in constant demand for speeches and interviews–until he suddenly dropped out of the public eye, shunning all members of the media. However, Kerra is willing to use any means necessary to get to the Major–even if she has to wrangle an introduction from his estranged son, former ATF agent John Trapper.
Still seething over his break with both the ATF and his father, John Trapper wants no association with the hotel bombing or his hero father, and spurns the meddling reporters determined to drag them back into the limelight. Yet Kerra's sheer audacity and tantalizing hints that there's more to the story rouse Trapper's interest despite himself. And when her interview of a lifetime goes catastrophically awry–with unknown assailants targeting not only the Major, but also Kerra–Trapper realizes he needs her under wraps if he's going to track down the gunmen before they strike again . . . as well as discover, finally, who was responsible for the Pegasus bombing.
Kerra is wary of a man so charming one moment and dangerous the next, and she knows Trapper is withholding evidence collected during his ATF investigation into the bombing. But having no one else to trust and enemies lurking closer than they know, Kerra and Trapper join forces and risk their very lives to expose a sinuous network of lies and conspiracy running deep through Texas–and uncover who would want a national hero dead.