In Serenity Harbor (Haven Point #6) by RaeAnne Thayne, Katrina Bailey might be back in the place she will forever call home, Haven Point, Idaho, for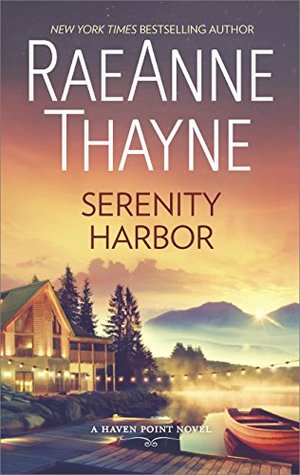 her sister's wedding but her heart is still back in Colombia. That's where she's been teaching for the past year and where she fell in love with an orphaned girl name Gabi. Struggling with mountains of paperwork and exorbitant fees, Kat is getting close to finalizing her adoption of Gabi. So when Bowie Callahan needs someone to temporarily care for his newfound young brother Milo and offers her a boatload of money, how can Kat refuse? But being so close to the sexy tech genius distracts her from her new purpose in life. And before she knows it, she's gone and fallen for both Callahans–Bo and his adorable brother Milo.
'She pulled out her phone and clicked to the images of Gabi.
This little girl loved her and was counting on her to provide a better life for her, and she couldn't afford to let anything distract her from that.
Not even a man who smelled like sin and kissed like salvation.'
With a new position within Caine Tech, a move to Haven Point, and a new house on Serenity Harbor, Bowie is already a bit twitchy from the changes in his life. But finding out about six year old Milo, his special needs half brother whom he knew nothing about before their mother passed away? Now, that's a game changer. Bo commits to giving Milo everything he never had, including a stable home life, but he's not sure how to begin. He does know they'll need someone to take care of Milo in the interim. Katrina Bailey appears to be the answer to his prayers–a schoolteacher who's in town for a few weeks and who has an amazing connection with his brother from the outset. Bowie gets sideswiped by his emotional response to having Kat around his house and seeing the tender care she shows to not only Milo but to himself as well. He hopes he can show her how much she enhances their lives and convince her to give a relationship a try.
'The moment he found out about his little brother, Bowie knew his life was about to change. He owed Milo the sort of childhood Bowie had always wanted, no matter how difficult it might prove to deliver.'
Serenity Harbor was a sweet romance filled with warmth and personal struggles. And as always, RaeAnne Thayne gifted her readers with charmingly flawed characters you won't be able to help fall for and a situation that will tug at your heart.
'Bowie smiled and held his hand up in a fist. After a moment, Milo tucked in his fingers and bumped his brother's much larger hand, and Katrina felt like they'd both fistbumped her heart. Oh, she was in trouble.'
I know I've said this before, but RaeAnne Thayne is one of my go-to romance authors. There's such an honesty to her stories and I love that she doesn't pull any punches. She always puts her characters through the wringer before they can ever hope to earn their HEA. Bowie and Katrina in this book were certainly proof of that, with their troubled childhoods still haunting them and their daily struggles in their own abilities and self-worth. Although things started off pretty rocky for them, I thought overall Kat and Bo made a good team. Especially in dealing with Bo's younger half brother Milo.
I do have to say that Milo really stole the show for me here–and he completely stole my heart in the process. I won't give all the details away of his background as that was part of Bowie's journey too, but Milo was a special needs child who had a huge capacity for love. I adored his connection with Kat and how much he opened up under her care and loving guidance. But it was watching Bo and Milo bond that got me a bit teary-eyed. Bowie was a handsome, thoughtful, computer genius who created a successful life for himself out of literally nothing. I liked that he didn't realize his own attraction with the ladies and that he was very humble. Bo wanted nothing more than to take care of this new little guy in his life and do right by him, providing the support and the things he never had. How can you not love him for that, right?
And Katrina, well, I truly did like her overall but she had a few moments where I was a bit perturbed over things she did or said. I admired that she had risen above her own childhood struggles and family drama and that she was a compassionate teacher who cared deeply for her students. It was also wonderful that Kat was trying to turn over a new leaf and focus on the importance of stability in her life instead of chasing after the latest hot guy in town. But I felt like she just wasn't being honest with herself or Bo about her feelings and she wasn't willing to compromise and see if they could work out how she could move forward with her adoption of Gabi in Colombia *and* still build a life with Bowie and Milo. Of course it all worked out in the end, but it was an even bumpier ride to get there with how Kat handled things.
I love coming back to Haven Point, catching up with the locals, and seeing what new romance will unfold. Serenity Harbor was all about the value of family, friendship, and of overcoming adversity all while proving that patience and love can overcome just about anything.
Book Info:

Publication:  June 27th 2017 | HQN Books | Haven Point #6
In the town of Haven Point, love can be just a wish—and one magical kiss—away…
Computer-tech millionaire Bowie Callahan is about the last person that schoolteacher Katrina Bailey wants to work for. As far as she can see, he's arrogant, entitled and not up to the task of caring for his young half brother, Milo. But Kat is, especially if it brings her closer to her goal of adopting an orphaned little girl. And as her kindness and patience work wonders with Milo, she realizes there's more to sexy, wary Bo than she'd ever realized.
Bo never imagined he'd be tasked with caring for a sibling he didn't know existed. Then again, he never pictured himself impulsively kissing vibrant, compassionate Katrina in the moonlight. Now he's ready to make her dream of family come true…and hoping there's room in it for him, too…