In Sex on the Beach by Delphine Dryden, Amanda agreed to be her best friend Julie's "plus one" on a Hawaiian getaway, courtesy of a contest Julie won at work. This is the perfect time to finally get over her breakup from Jeremy about a year ago. Who knows? She might even have an island fling while she's at it. The last thing Amanda expected was to find Jeremy on the island when she got there. Seriously, what does a girl have to do to escape her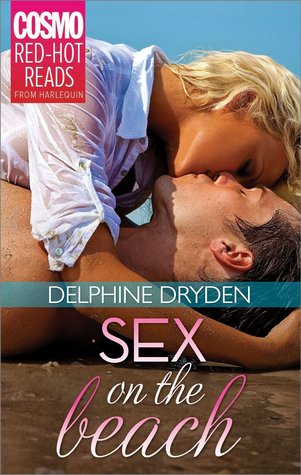 past? But one glance at him and she's smitten all over again. Is there a possibility they could figure things out and repair their relationship ?
"I've spent so much time focusing on how pissed off I was at him, I forgot how good we could be."
Jeremy's not sure his plan to surprise Amanda in Hawaii will work. The last year away from her has been utter torture. He's been successful growing his new business in Seattle, but somehow it's bittersweet without her there to share his days and nights. So now it's last ditch effort time. Jeremy hopes if he can just get Amanda to listen to him that they can work through their issues and eventually get back together. But as mad as she was at him when they broke up, Jeremy knows he has his work cut out for him this time around.
"I still love you, I still want to be with you. We are both really smart, and I know we can figure this out if we try. Please just give me these few days to try."
Sex on the Beach was an emotionally charged second chance romance novella that takes place in beautiful Hawaii.
This is the second short story in Delphine Dryden's Tropical Trysts series written for Cosmo Red Hot Reads from Harlequin. This time we get Amanda and Jeremy's POV, instead of Julie and Alan's from book one, Mai Tai for Two. I thought it was interesting how this was written. It follows the same timeline as before but gives the details of what transpired between Jeremy and Amanda. I liked having that balance of knowing how everything fit together in the four days these two couples were on the island together.
The writing was just as flirty as before, but in this couple's case their emotions were a bit heavier and almost urgent. They had spent a year apart but their their attraction only seemed to build in that time. I'm not complaining because it made their love scenes uber passionate. I liked that their conversations still held that easy flow like a couple who knew each other well and were in tune. And I thought the issue they had yet to overcome, the logistics of how they both could keep their careers on track in different locations, was a relevant topic. I'm sure it will be something most of us readers can easily relate to.
Sex on the Beach is a perfect quick story for a lazy summer day. I hope you enjoy Jeremy & Amanda's romance.
Book Info:

Published July 15th 2014 by Cosmo Red Hot Reads from Harlequin
Hawaiian Vacation To-Do List:
1. Bikini up! You're in Oahu, and it's time for fruit drinks with umbrellas in them!
2. Being obsessively organized doesn't work during a Hawaiian vacation. Relax. Seriously.
3. Scan the resort for hot dudes. Huh. That hot jogger who ran by looks a lot like your ex, Jeremy—only fitter, harder and sexier.
4. Moonlit walks mean bumping into Hot Jogger Guy. Who is your ex.
5. Don't panic. Instead, think with your libido! Also debate the merits of ex sex.
6. Ignore the consequences. Go for it.
7. Revel in the afterglow. Go for rounds two and three.
8. Ooh, kayaking!
9. Round four. Oops!
10. Definitely do not think about why you broke up in the first place. Or that you're having wicked-hot nookie with the man you were here to forget…