Sexy Stranger: Kendall Ryan is an auto-buy for me; I don't think she's ever written a book I didn't like. Sexy Stranger is no exception, and I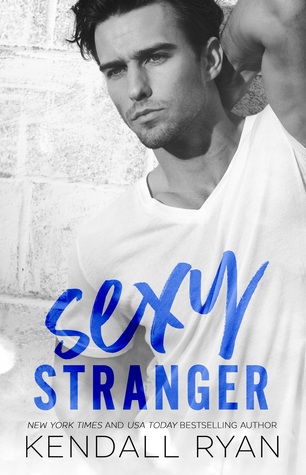 wholeheartedly recommend this sexy, fast-paced, fun enemies-to-lovers romance that reminds us that opposites do attract.
Wealthy Charlotte Freemont is driving across the country to move from New York to California when her Audi breaks down leaving her stranded in the small town of Shady Grove, Texas. She's never experienced rural life, and she's out of her element. She meets Luke Wilder, his twin brother and their little sister soon after arriving, and she and Luke immediately butt heads. He doesn't trust her and believes she's looking down her nose at them and their way of life, and she just thinks he's an *ss. (He even calls her Charlie to annoy her.)
Underneath their snarky banter and heated exchanges, potent sexual chemistry sparks and simmers. Each verbal battle turns up the heat, until these two cannot deny their attraction and jump into the flames. Charlotte is stuck in town for days waiting for her car to be repaired, and she and Luke decide to have a fling for the duration of her stay.
Things between Luke and Charlotte are hot—Ms. Kendall writes scorching sex scenes—but neither think this can be more than just great sex, but they discover they actually like each other and enjoy spending time together outside the bedroom. They also find common ground when Charlotte assists Luke with a marketing plan for his struggling whiskey brewery that he's put his heart and soul into.
Luke doesn't think Charlotte would ever be interested in staying permanently in Shady Grove, and she doesn't think he'd ever want her there. What starts as just a good time quickly evolves into what could be a beautiful future if they take the plunge, be vulnerable, and admit they've developed feelings for each other. The reader will love every moment of this delicious read.

Book Info:

Publication: 5/23/17 | Self-Published – Kendall Ryan
From New York Times Bestselling author Kendall Ryan comes a sexy and sizzling, enemies-to-lovers romp with bite.
He's rude. Arrogant. And too hot to handle.
And she's stranded with him for an entire week.
He knows the sexy stranger doesn't belong in his small town, but he's determined to keep her there. The second she opens her smart mouth, he wants to swap a whole lot more than insults with her. She's got a secret. But he's got his own agenda.
Buckle up.