Return to Huckleberry Hill by Jennifer Beckstrand: I think that ""Return to Huckleberry Hill" was one of my favorite installments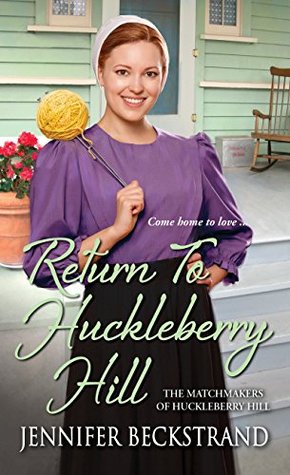 yet in this series! And there have been some beautiful books in this series. However, I also believe this can be read as a stand alone if you have not read previous books.
Anna and Felty are the matriarch and patriarch of the Helmuth family in the Amish community of Bonduel, Wisconsin, and they are a lovely and eccentric couple in their late 80s. They, Anna especially, thrive on finding matches for their grandchildren and great grandchildren, wanting for them the same happiness Anna and Felty have shared for over 60 years.
In "Return to Huckleberry Hill", Anna and Felty's grandson Reuben travels to Bonduel after being "betrayed' by his best friend and fiancee. Reuben is followed to Bonduel by his best friends' sister Fern. Fern is determined to bring Reuben back to Sugarcreek to forgive his brother and Reuben's former fiancee. Fern "cooks up" some creative schemes with Anna and Felty to heal Reuben's loneliness and self shame.
All the while, Fern attempts to hide the mis treatment she receives from her hosts in Bonduel, and tries to hide her growing less than sisterly affection for Reuben. She introduces Reuben to many of the town's young adults, hoping he will find a kindred spirit. Reuben vacillates between frustration from Fern's efforts, and the resolve to protect Fern.
I hesitate to say more as I don't wish to spoil this for fellow readers. I invite fellow readers to read "Return to Huckleberry Hill" as it is a story you will not want to put down!

Book Info:

Publication: May 30, 2017 | Zebra | The Matchmakers of Huckleberry Hill
Reuben Helmuth is plenty bitter. John King, his best friend—or so he thought—is engaged to the girl Reuben loved. Humiliated, Reuben flees from Ohio to his grandparents' home on Huckleberry Hill, where he knows he'll find comfort. He's enjoying wallowing in his misery—until John's sister, Fern, shows up. She won't stop pestering Reuben about forgiveness—or trying to help him find love again. Yet Fern's efforts only reawaken Reuben's long-buried feelings—for her…
With her brother too ashamed to face Reuben, it's fallen to Fern to help mend fences. But as she and the Helmuths do all they can—even organizing a knitting club event filled with eligible girls—it may take one more challenge to inspire Reuben to forget his heartache, recognize his own blunders, and embrace the true love that's right in front of him…