In Shadow Silence (Whisper Hollow #2)  by Yasmine Galenorn,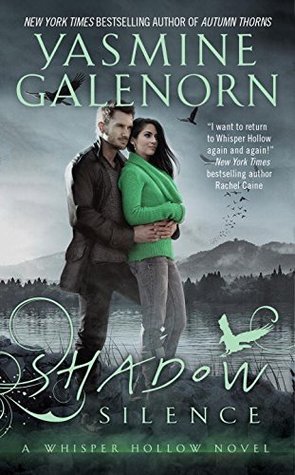 Kerris Fellwater grew up in spooky Whisper Hollow, Washington, but after a fifteen year absence, she's glad to finally be back with her friends and remaining family members. She's inherited the job of being a spirit shaman–like the women in her family before her–and Kerris knows that although she has a lot to learn, she doesn't have a lot of time to do it in. Because evil beings are already making their presence known around town and are starting to harm residents. And she can't let that happen.
'Whisper Hollow was the Bermuda Triangle of the Northwest. Some people could pass through without blinking and never remember they had ever been here. And others–others came to stay, even if they didn't realize it when they first arrived.'
With the help of her guardian and mate, wolf-shifter Bryan, her lament singer Ellia, and the other town Matriarchs, Kerris is slowly beginning to understand her abilities as a shaman. Along with her best friend Peggin, and Peggin's artist boyfriend Mr. Divine, she begins to fight back against those intent on harm, but where one evil plan is thwarted, a new one takes its place. The final straw is when Peggin is nearly killed by the Lady of the Lake. Determined to save her friend and the rest of the townspeople, Kerris immerses herself in her craft and summons all of the power and resources she can find to put an end to the threats.
"Every time you walk through a dark pathway, you lose something. You lose a little bit of the sense that the world's fair, you lose a little bit of your naivete. But you also gain from your journey. You gain strength, and wisdom, and the realization that you can survive more than you thought you could."
Yasmine Galenorn never fails to create a spectacular world for her readers, with lush backgrounds and multidimensional characters paving the way to a page-turning experience. And this book, Shadow Silence, was complex, heartfelt, and even had a bit of holiday charm mixed in.
"It seems like you're giving up control, doesn't it? When you fall in love? But that's okay. I'll never make you reliant on me. I'll always be here, but I'll never take away your independence, or ask you to be anything but what you are. I promise you that, Kerris."
I've become a true fan of Galenorn's writing style, especially with how she can build worldscapes that are so intricate that they feel real. And I would expect that's a challenging feat when writing a fantasy series. I think I was equally impressed with the lively offbeat characters and with the small town of Whisper Hollow itself. This was my first foray into this series as I somehow skipped over book one. But I found it fairly easy to figure out the logistics, although admittedly there were a lot of characters to keep tabs on. Thankfully Galenorn included a good bit of info on what happened in book one and of Kerris and her friends' pasts.
It felt like there were two parts to this story that were woven together quite well. First there was Kerris coming into her power as a spirit shaman, learning about her family history and becoming more involved in helping Whisper Hollow fight the evil surrounding it. I enjoyed the mystical part of Kerris's journey very much and in seeing her trust her instincts more and more as she gained confidence.
The other part of the story was the relationships. Plural. We had Kerris & Bryan and Peggin & Mr. Divine, as well as several close friendships to follow. Like I said before, the characters were kind of offbeat and quirky but I honestly loved them all. Kerris and Bryan had a romance that, while super steamy, felt destined to happen. They had a great bond and worked well together as shaman and guardian. Peggin and Deev were a truly sweet couple. She was a retro pinup girl lookalike and he was like a character out of a Steampunk novel. (Top hat, goggles and Victorian era clothing included!) And Deev's imaginative clockwork creations sounded so cool, some of them actually coming to life and leading the group on a merry chase, like in the case of Jokney, the 'dog'. 🙂
Shadow Silence is the perfect novel for fantasy lovers to lose themselves in. With all of the magical beings, interesting shapeshifters and beasties, and the vivid rituals detailed, it was easy to get swept away with Kerris, Bryan, Peggin, Deev and the rest of the group.
Book Info:

Publication: Published September 27th 2016 | Jove | Whisper Hollow #2
New York Times bestselling author Yasmine Galenorn invites readers to Whisper Hollow, where spirits walk among the living and the lake never gives up her dead…
Fifteen years ago, I ran away from Whisper Hollow, Washington, a small town on Crescent Lake in the Olympic Peninsula. But truth is, if you were born here, you can never really leave. I'm Kerris Fellwater, and I'm a spirit shaman. It's my responsibility to drive the dead back to their graves, because around Whisper Hollow, people—and secrets—don't always stay buried.
My best friend Peggin finds herself under a curse after she is almost taken by the Lady of the Lake, and the Unliving are determined to drag her back to the hungry waters. As Bryan—my guardian and mate—and I work to break the hex, we uncover a dark and violent mystery from the past. One the Hounds of Cú Chulainn will do anything to guard—even if they must summon a legion of the dead to destroy Whisper Hollow.