In Shadowed (Dark Protectors #6) by Rebecca Zanetti, Vampire Jase Kayrs has been plotting revenge on the demons who tortured and held him captive since the moment he was rescued. As it turns out, the time to make his move may be fast approaching. Jase has a chance to help witch, and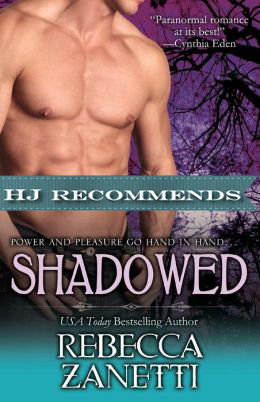 ally, Brenna Dunne by mating with her, increasing both of their already substantial powers. He also credits Brenna for being one of the biggest reasons he didn't give up while the demons tortured him.
'The world was cold and shitty. Brenna was warm and kind. "She saved me," he said. "At my darkest point, Brenna Dunne saved my life."
Jase always did have a soft spot for the petite witch and now he just hopes he doesn't hurt Brenna, physically or emotionally, thanks to his uncontrollable rage. As he prepares for more battles ahead with their enemies, he begins to actually feel emotion for the first time in ages. Could Brenna be the key to letting go of his past?
"I love you with everything I am, with everything I'll ever be, and with every hope I could ever dream."
Brenna Dunne is racing against time before two events change her life forever. The suggestion that mating with the object of a former crush, Jase Kayrs, will help her seems ridiculous. However, Jase is one of the most deadly soldiers on earth and an extraordinarily powerful vampire in his own right. Brenna worries that if she agrees with the plan, she may lose her heart to the tormented man and end her chance at finding love in her lifetime.
'She thought she'd been kissed before. Not so. Or maybe this wasn't just a kiss. It was a claiming.'
The latest offering in the Dark Protectors series, Shadowed, is a dark, intense paranormal romance that had me mesmerized. With passionate writing and engaging characters, Rebecca Zanetti has once again given us a story to remember.
Book six in the series can be read as a standalone if you've never explored this world before, and I think you will still have a good understanding of the how the characters fit together without getting lost. I really enjoyed Rebecca's writing style again, as it seems to beautifully convey the character's emotions. Especially with Jase and Brenna–their desire for each other and how swept away they become with their emotions comes across perfectly to the reader.
Even though the plotline for Shadowed is based on rather dark events, there was still a nice smattering of humor and funny moments included. Some of my favorite scenes were those that included a lighthearted touch: the meeting for the negotiation of the terms of their mating, and Brenna and Jase's sparring session. Poor Jase! lol
I think Rebecca did a nice job showcasing how much Jase went through at the hands of the demons and his struggle to try to get back some semblance of his former carefree self. It was heartening to see his family stand by him through it all and to see how strong Brenna was in the midst of the chaos.
If you're a fan of paranormal romance, I think you'll really enjoy Shadowed. It is a touching story filled with drama, heart-racing action and lots of magic.
Book Info:

 HJ Recommends
Published October 3rd 2013 by eKensington | (Dark Protectors #6
Jase Kayrs was the fun brother. The warm, charming, easy-going brother of the vampire leaders. Until he was taken and tortured by demons with their evil mind tricks for nearly five years. Upon his return, he's dark, violent, and not the man they all thought they knew. Not the man he once was. He's haunted that the only reason the demons would have let him live was to use him as a weapon against his family—but he can't figure out when or how he'll explode. Plus, once again the demons are after Jase with a vengeance…or rather, a female demon he rejected is out to destroy him.
Then the king asks Jase for a favor…a big one. To mate with one of their allies in order to save her. She's everything that's good and light in the world…while he's at home with darkness. Yet he agrees…knowing mating may be the only chance to save them both.