In Shadowmaster (Nightsiders #3) by Susan Krinard, Phoenix Stryker is tasked with infiltrating a rouge secret society. She must fret out assassin, Drakon, before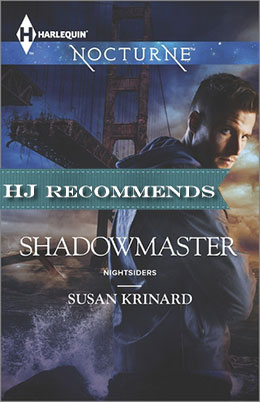 he succeeds in destroying the fragile truce.
On the brink of war, Phoenix is willing to anything/everything to protect the city dwellers. However, she quickly discovers her loyalties divided between the Enclave and the irresistible attractive assassin she is targeting.
As the third installment, the reader is swept into an on-going story. It was initially disorientating, but I quickly found that the story was mostly stand-alone. The author intertwines several things together including deception, betrayal, and suspense to form and incredible overall story.
It would have been 5-stars except that it lacked the spicy elements that I have come to expect from the Nocturne line.
Book Info:

March 4th 2014 by Harlequin Nocturne Series , #179
Humans and vampires stand on the brink of war in this gripping series by New York Times bestselling author Susan Krinard
In the crumbling outpost of San Francisco, a fragile truce is threatened by an assassination plot. Half-dhampir agent Phoenix Stryker has the beauty, brains—and blood—to infiltrate the vampires' secret society and save the city. But once she's in, she finds that her target, the assassin Drakon, is not the monster she expected. Handsome, honorable and irresistibly attractive, Drakon will stop at nothing to save his people—and protect the woman he needs even more than the blood that keeps him alive. Now the key to the world's survival may lie in their dangerous alliance….