The Back-Up Plan (Second Chances #4) by Mari Carr is a hot, fast-paced read that I was unable to put down. This is the third book I have read by Ms. Carr and it is terrific! Although the book is part of a series, it can definitely be read as a stand alone.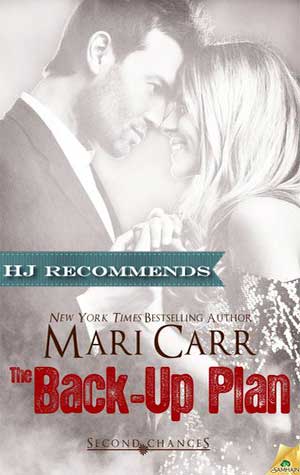 What happens when you want to get married and you are not involved with anyone? You get a little drunk and make a pact with your friend and law partner of over thirteen years to get married to each other. So, if Kristen and Jason are still single by the time they reach the age of forty, wedding bells will be ringing in their honor. Where did the time go? Now it is five years later, they are both still single, unattached, and the big "40" is only months away.
Kristen Grey and Jason Mitchell met in law school and have been friends as well as business partners ever since. They opened their own law practice and worked very hard to become successful. Kristen blames being single on her heavy work schedule, which is almost completely true. Presently, her pleasure method of choice are the five vibrators in the drawer next to her bed. Jason is a little cocky and a workaholic as well, but he finds the time to wine and dine a beautiful woman when he needs to let go of some stress. The bottom line, they remain single because they have not realized that they are each others soul-mates.
What I love most about this book is how it truly focuses on the development of Kristen and Jason's relationship. With the exception of a small group of close friends, no family or acquaintances are introduced to generate additional storylines or wreckage. Kristen and Jason are basically cocooned together from the onset, creating their own angst, havoc and desire, without any outside influences.
I truly recommend this book and the entire Second Chances series. To begin with, the cover draws the reader in. The combination of dark red against the muted gray photograph, along with the coordinated lettering, is a total attention grabber. Secondly, the heroine and hero of the story, Kristen and Jason, are real people, with histories and experiences that are easy to identify with and understand. Their relationship both in and out of the bedroom is completely authentic and real, which allows the reader to easily feel their connection to each other as individuals and as a couple. It is a nice chance of pace to read a love story about two people learning to adjust to life at the ripe young age of forty, and some of the issues that coincide with the aging process. Lastly, Ms. Carr fills each page with depth, combining Kristen and Jason's personal and working relationship quite well. Her ability to write love scenes that leave the reader gasping, never fails to amaze me.
Book Info:

Publication: April 1 2014 by Samhain Publishing | (Second Chances #4)
Kristen Grey has always been married to her work, but as her fortieth birthday looms, she begins to wonder if that's all there is to life. When her friend Zoey suggests she come up with a goal for a second chance at happiness, the first idea to pop into Kristen's mind falls out of her mouth—to find a husband.
One night, after a few too many shots of vodka, it falls out of her mouth again, in front of the last man she wants to hear it. Her annoying, cocky law partner, Jason Mitchell. She's shocked when he vows to help in her quest to find a man.
After all, he has a vested interest in her success. Years ago, they foolishly made a pact that if they hadn't found "the one" by age forty, they'd marry each other. Time is running out.
Problem is, as Jason and Kristen try to help each other find love, it becomes more and more apparent that maybe the back-up plan isn't such a bad option after all.
Warning: The heroine in this story has no objection to how her law partner likes to recess. Legal eagle? Nope. Spread eagle.