Shattered Heart by Dorothy F. Shaw: Cynthia has the knack for picking the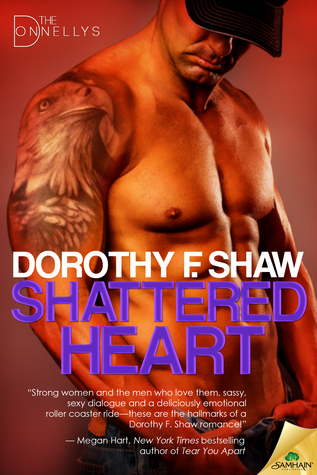 wrong men and staying in a relationship long past its expiration date. When her latest relationship goes south, she decides that it's time to take a break from men. Cyn has the best of intentions until she lays eyes on her brother's best friend, Shane, who is back in town. Cyn has had a crush on Shane for what seems like her entire life.
Shane is back to do some work on his mom's house and he's looking forward to heading back home. The only saving grace in this trip is seeing the Donnelly's again. They are like family, so it's a little awkward when he sees Cyn with a new perspective. He wants his best friend's sister, but he doesn't want to put that friendship at risk.
But their intentions quickly evaporate. They have one night that both expect to be the extent of it. Cyn wants to stay true to her dating moratorium, but their connection is something she's not sure she wants to or can turn away from.
"Just stopped by to say hi to Ryan and his lady. I've been…not so good."
"Oh?" She snapped her gaze back to him. "Why, what's wrong? Are you okay?"
He gave her a sideways glance from below the brim of his hat. "Been trying to reach you. Haven't heard back."
Shane can be charming and persuasive, so it isn't long before they decide to enjoy themselves while he's in town. A committed relationship wasn't something that either one was looking for at this point, but things get complicated quickly. Cyn's ex-boyfriend also makes his presence known and leads to Cyn questioning herself more than ever.
"Look, this is important to me, it's important to us. You need to be sure, Cyn."
"I am sure, Shane!"
"First off, lower your voice. Second, I know you think you're sure, but has it occurred to you that maybe I need to be sure?"
Shattered Heart is a sexy friends to lovers roller coaster with a few ups and downs. Dorothy F. Shaw shows the growth and development of Cyn and Shane as she makes them work for their ending. Ms. Shaw provides a story that many readers could relate to even as they may find Cyn to be frustrating. Fans of Shiloh Walker and Bella Jewel will enjoy Shattered Heart.
Book Info:

Publication: January 19th 2016 | Samhain | The Donnellys #3
A crush is just a fantasy. The real thing packs some serious heat.
The Donnellys, Book 3
When Cynthia Donnelly lays eyes on her high school crush at her brother's wedding rehearsal, she regrets her self-imposed, one-year moratorium on dating. If possible, he's even hotter now than when they were teens.
Back in school, Shane made a point to ignore his best friend's cute, sassy little sister. Now that she's grown into an incredibly sexy woman full of Irish spunk, resisting her is out of the question. Besides, in his book, all "hands-off" rules have expired.
One sizzling night together should have been enough. Instead, the heat rises, tempting Cyn to take a chance on a long-distance relationship and making Shane consider pulling up stakes and moving back to L.A.
Cyn's recently dumped ex, however, has other ideas. His quest to get her back escalates into violence, shattering Cyn's faith in herself, and in anyone else of the male persuasion, and leaving Shane with his work cut out for him to repair the damage—or lose his shot at a once-in-a-lifetime love.
Warning: This book contains a physical assault. Buckle up for a bumpy emotional journey with the characters as they fall apart and then slowly find their way to healing, and to each other. You might get angry or tearful along the way, you may even get frustrated, but as is with any good love story, it'll be worth it in the end.