Strip You Bare by Maisey Yates is the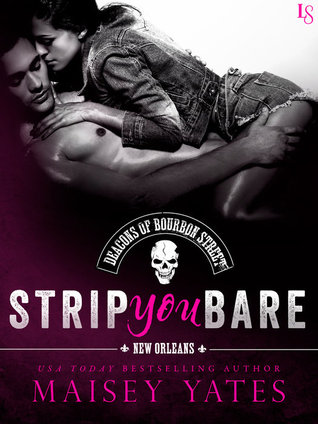 forth and final installment of the Deacons of Bourbon Street and I can truly say that I am sad to see this series end. Four books, four authors, each book flows seamlessly. They can be read as stand alone books, but is best to read them in order so that you get a better understanding of what is happening from book to book. This is Micah and Sarah's story.
Micah Carpenter never wanted to return to the Deacons of Bourbon Street, after being forced to leave with is 4 biker brothers 10 years earlier, he never thought that he would be back. He had left that life behind him, started a new life. When Priest the MC president is murdered, Micah is called home and all he wants to do is get out ASAP, but Micah is forced to stay and help unravel the mystery of what happened to Priest, and that mean spending time with the ice princess who may hold the key to it all, Sarah Delacroix.
Sarah Delacroix wants nothing more than to return her family home to its former glory. Knowing that reputation is everything, she knows that she needs too stay away from Micah. But soon she finds herself wanting to get to know more about the tattooed biker who wears a suit and has the looks of a man use to getting his way. As Sarah and Micah work to understand why the Delacroix home is now in the hands of the Deacons of Bourbon Street, they come to realize that things are not always what they seem.
As this story comes to an end, we finally understand what happened to Priest and why. We come to understand Micah and why he never really felt worthy of being a part of the Deacons. It is the bonds of Brotherhood and the love of Sarah that finally help Micah feel comfortable in his own skin.
If you enjoy an exciting MC book with a touch of mystery than this series is exactly what you are looking for.
Book Info:

Publication: January 5th 2016 | Loveswept | Deacons of Bourbon Street #4
Sparks fly when a society belle and a biker with a troubled past get down and dirty in the Big Easy. Maisey Yates turns up the heat in the sizzling finale of a series co-written with Megan Crane, Rachael Johns, and Jackie Ashenden.
Micah Carpenter hates New Orleans. Hell, after ten years he no longer has much affection for the Deacons of Bourbon Street motorcycle club, either. But when the brotherhood calls, Micah answers. Joining the hunt for their mentor's killer, he crosses paths with a Southern belle who exudes class—and sex appeal. Micah knows better than to mess with ice princesses: No matter how hot things get, they never melt. And yet he can't stop himself from offering her a taste of the wrong side of the tracks.
Sarah Delacroix understands that reputation is everything. The daughter of a prominent family rocked by scandal, she's desperate to restore their good name. Micah's exactly the kind of man she should be avoiding. Behind his sleek and sophisticated exterior beats the heart of a predator—and she knows it. But, like the tattoos beneath his tailored suit, his rough edges are irresistible. And all too soon Sarah finds him getting under her skin . . . and living out every one of her hottest fantasies.