Shattered Silence (Echo Falls) by Marta Perry: Kindergarten teacher, Rachel Hartline, only needed to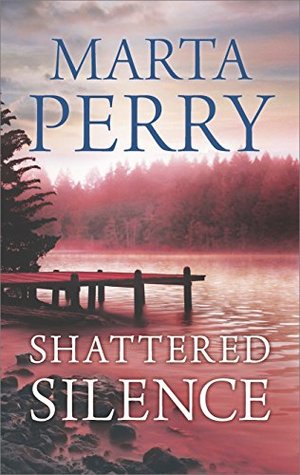 touch base with her ex-husband, Paul, one last time to discuss the sale of their shared home. Things go horribly awry when she catches Paul downloading sensitive company information onto a flash drive. Whatever trouble Paul has gotten himself into, he just put Rachel in the middle of it. Soon, Rachel is dealing with Paul's disappearance, and a private investigator named Clint. Believing her life has been threatened, Rachel heads to the Amish community where her grandparents live, sure it will be the safest place she could hide.
This is the first book I've read by Marta Perry. At first, I thought I'd made a mistake in choosing this book as I normally steer clear of 'Inspirational Fiction'. But, I'm glad I kept an open mind and gave this book a try. As it turns out, this story is a solid romantic suspense novel, which I found to be very intriguing. There is a thin Amish thread, which mostly stays in the background, and is far from being heavy handed. I enjoyed the authentic vernacular the author used, making it obvious she is familiar with, and respects her subject.
The mystery is puzzling, and I never knew who I could trust. The only complaint I had was the limited information provided about the project Paul was involved in. This area was just a bit too vague, which lessened the impact of the motive. While all the important questions are answered, without knowing this key piece of information, readers are left to speculate, not only on why it was just a big secret, but what made it lucrative enough to kill someone over it.
For those unfamiliar with this author, like I was, the romance is very chaste, with a slow build up, mainly consisting of passionate embraces, but it was very realistic, considering the circumstances. I enjoyed the mature characters and the adult manner in which they talked things out after dealing with the inevitable conflicts they faced. I found this to be very refreshing! I did question Rachel's protectiveness towards Paul and understood Clint's frustration from that standpoint. But, I liked them both and felt they had a nice chemistry between them.
Overall, this a clean romance, low on graphic violence and was enjoyable enough, it has enticed me to seek out more books by this author.
Book Info:

Publication: August 1, 2018 | HQN | Echo Falls
A woman on the run seeks sanctuary in a peaceful Pennsylvania Dutch community—and finds a protector in the most unlikely of men…
One moment Rachel Hartline is secure in her career and community. The next, she's in the wrong place at the wrong time—watching her ex-husband commit a crime that puts her in unfathomable danger. Fear and hurt send her home to an Amish farm and the family she's always trusted. But a private investigator is close behind—and he may be a threat to her in more ways than one…
Cold, calculating Clint Mordan isn't convinced Rachel is as innocent in her ex-husband's schemes as she claims, but when her ex's enemies target Rachel, Clint is driven to keep her safe. Maybe the terror in her beautiful eyes and the target on her back aren't an act. But as his feelings toward her deepen, Clint realizes he's the only one who can keep Rachel alive in a game where only the killer knows the stakes.