Shot on Gold by Jaci Burton: Amber is more than ready to get the competition under way. She's thrilled to be a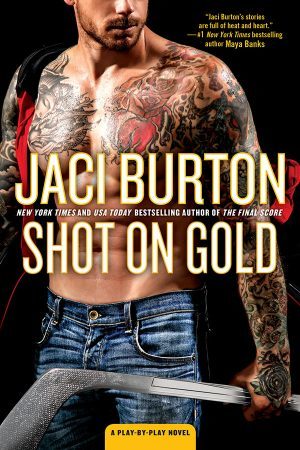 third-time Olympian and is hoping to finally get the gold she's missing in figure skating. She is graceful, powerful, skilled, and in the zone this year. This will be her last Olympics and she's looking forward to figuring out her life after these games. She's also ready to move out of her parents' house and get distance from her overbearing mother.
Will is really excited to be back for the Vancouver games where he wants redemption from the Silver medal in ice hockey during the last games. Will is a talented, dedicated, and focused NHL player who is looking forward to playing with and against the other NHL stars. He is very outgoing and can't wait to reconnect with the friends he made at his first games.
Amber is thrilled to hear that her only friend, Lisa, will be her roommate again. Amber is determined to enjoy herself more this time around and try to meet other people. She's used to keeping to herself during all competitions, which makes for a lonely existence. Luckily, she also meets Will who is happy to get to know her.
"So…you wanna go ice bowling?" he asked.
"Not really, but you can feel free to join them if you'd like."
He cocked his head to the side and studied her. "Trying to get rid of me?"
"Trust me, I'd tell you outright if I wanted you to go away."
They immediately hit it off and both feel the connection. They can bond over their mutual love of skating and their competitive natures. They get to know each other through experiencing the athlete's village and watching each other and their friends compete. They banter, push each other to do their best, and support their respective schedules. He helps her to open up and have fun. A fling is exactly what Amber needs, but it becomes more than sex pretty quickly.
"Lots of snow here," Will said. "It's perfect."
She cast a sideways glance at him. "For?"
"Building a snowman, of course."
She stared at him. "You're serious."
"I'm dead serious about my snowmen. Come on."
Shot on Gold is fun, sexy, entertaining, and a perfect read to get you ready for the winter games this year. Jaci Burton pulls you into the athlete's village with colorful and engaging competitors from a variety of countries and gives you a different perspective of the games. Ms. Burton developed an engaging story with a good mix of romance, friendship, family, and the demands of competing. Shot on Gold can be read as a standalone in the Play-by-Play series. Fans of Tessa Bailey, Helena Hunting, and Jeanette Murray will enjoy Shot on Gold.
Book Info:

Publication: February 13th 2018 | Berkley Books | Play-by-Play #14
In the new Play-by-Play novel by the New York Times bestselling author of The Final Score, opposites attract when a figure skater and hockey player lace up their skates–and go for the gold…
Will "Mad Dog" Madigan is making his second trip to the Winter Olympics, and he couldn't be happier. Hockey is his life and playing for the U.S. team is a privilege. Then he meets U.S. figure skater Amber Sloane. She's beautiful, ambitious and driven–everything Will desires in a woman. He would love to show Amber how hot life off the ice can be.
Amber has skated her entire life, sacrificing everything in the hopes of one day winning gold. Now she's competing for the third and final time. She intends to win, and nothing's going to get in her way–until she meets Will. He's an irresistible charmer, and before long Amber is wondering if this sexy hockey player is the perfect guy to show her some moves outside the rink.
But after all the medals have been awarded, Will and Amber will have to decide if what they have together is just a fling or a real shot at true love.