Show Me Forever by Layla Hagen: When Liz moved to Chicago six months ago she had big plans of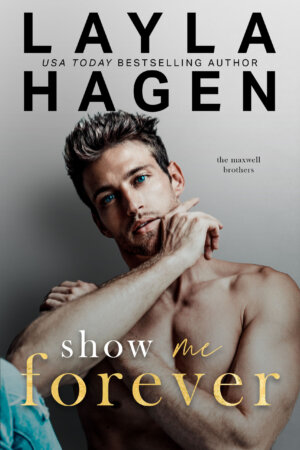 finally opening her very own bakery, but as it would turn out things are as expensive in Chicago as they are back in her small home town. Nevertheless not being one to give up on her dreams, Liz puts in the hours to save up to finally achieve her dream bakery Sweet Treats, working two jobs and saving up every bit that she can is no joke but at least her landlord is a sweet old lady that treats her like family. Well that is until grouchy stuck up lawyer Declan Maxwell buys the property from Helen, now not only is Liz stuck with a grouch as her new landlord but they are both going to be staying on the same property… should be fun right? Soon the two find themselves butting heads over late night dance parties and noise complains, but could this just be the start to one steamy new relationship, after all the line between love and hate is rather thin…
These Maxwell boys just keep stealing my heart, with each of Hagen's books she just seems to get better and better. This time round we get the eldest Maxwell brothers story and let me just tell you Declan is my favourite of the lot! I'm such a sucker for the grump meets sunshine trope and this was our leading couple down to the tee. This was the type of book that will have you swooning from start to end and wanting to read it all over again soon after finishing!
Both main characters were amazing and I just loved getting to see their connection grow into this beautiful relationship. Liz was such a loveable leading lady, her passion for baking and desire to open her own bakery were completely admirable, especially getting to see the effort and sacrifices that she put in on her journey to achieve this dream. We have come to know a lot of the Maxwell kids now but I can easily say that Declan is my firm favourite. I totally melted at his protective and caring nature and that he was always willing to give advice and lend a helping hand to anyone that needed it. I loved that Declan and Liz were both so career driven but that family also played such a huge role in their lives, this largely helped bond the two of them.
The chemistry between Declan and Liz was hot perfection, these two had that tense back and forth pull down completely. I just loved getting to see them interact and slowly unwrapping the layers to each other. It was pure swoon gold getting to see Declan help take care of Liz when she hurts her foot. I really enjoyed getting to read all those light sweet moments but also getting to feel the heart breaking moments along side out leading couple, this was the type of story that you just can't help but connect with the characters.
One of my favourite things about this series is that family plays such a huge role throughout the novel and this book is no different. I loved getting to see the way that Declan interacted with his family and the banter that followed so naturally whenever then Maxwell clan was together. I just loved getting to see Liz fit right into all the crazy that is the Maxwell clan, and that she also maintained such a strong relationship with her own parents, sister and little niece.
I would definitely recommend reading Show Me Forever, this heart meltingly cute romcom will most definitely worm its way into your heart. Now I can't wait to get my hand on Luke's book next!
Book Info:

Publication: April 12, 2022 | Pub: Layla Hagen |The Maxwell Brothers #4
moved to Chicago six months ago, determined to finally open my own bakery. My landlady was this sweet woman who treated me like her granddaughter.
Then she sold the house. Now the devil himself is my landlord and neighbor since I live in the guesthouse on his property. Declan Maxwell is moody, unreasonable, and takes himself far too seriously. Unfortunately for me, he's also damn sexy.
When he shows up on my doorstep in the middle of the night ordering me to turn down the music, I give him hell. Secretly, I'm also checking him out. We go toe to toe like this almost every night.
The man is impossible. But here's the thing. I need a place to stay while I save for my business and this place is a steal. So, I need to put up with this handsome devil, though from a distance—because he's far too gorgeous.
Then one day I come home injured from work and he surprises me by taking care of me.
And kissing me.
And just like that, all my best intentions go up in smoke.