Sniffing Out Danger by Elizabeth Heiter is the second book in the K-9's on Patrol series, and each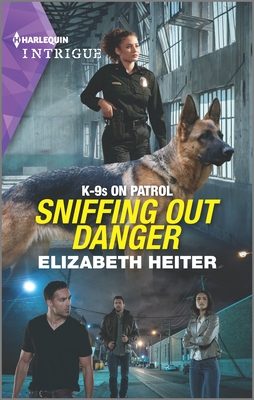 book is written by a different author. Having read the first book in the series, Decoy Training, I will say that while the characters overlap, it can be read as a standalone. Ava and her K-9, Lacey, were first introduced and paired together in Decoy Training, but if you haven't read that book, you won't really feel that you're missing anything. I can personally vouch for this, because I actually read the first book in the series after I had read this one, not realizing they were part of the same series.
Ava Callan left the Chicago PD to leave her past behind and start over somewhere new. She feels like an outsider though. Jasper is a small town, and everyone is tight knit. When the Chief pairs her with a K-9 instead of a human partner, she believes it's because no one wants to work with the new woman. She's unsure about working with Lacey until one day the dog, who was supposed to be trained to alert on drugs, alerted Ava to the presence of a bomb.
Captain Eli Thorne is from a town almost an hour away, but he's called to Jasper since he's trained in explosives. He disables the bomb, but when the beginnings of another bomb are discovered, he decides to stick around and help the Jasper PD get to the bottom of it. The Chief mainly lets him put together his own team, but then tells him Ava will be a part of it. He can tell Ava is an outsider within her own department; he even gets along with her co-workers better than she does. He feels drawn to her though, and wants to help her out, both professionally and personally.
When the team discovers another, larger bomb, it's clear that whoever is behind it is escalating and they need to get to the bottom of it before people get hurt. As the danger picks up, so do the sparks between Ava and Eli.
Sniffing Out Danger will grab the reader's attention from the first page and hold it until the last. Filled with twists and turns, plenty of action and danger, well-written characters, romance, and, of course, a dog, it's everything a romantic suspense should be.
Book Info:

Publication: April 26, 2022 | Harlequin Intrigue | K-9's on Patrol
When former big-city cop Ava Callan stumbles upon a bomb, she seizes the chance to prove herself. Not only to the small-town police department where she's transitioning to become a K-9 handler…but especially to charming lead investigator Eli Thorne. The only thing more explosive than her chemistry with the out-of-town captain? The danger menacing them at every turn.