In Silence Fallen (Mercy Thompson #10) by Patricia Briggs, Mercy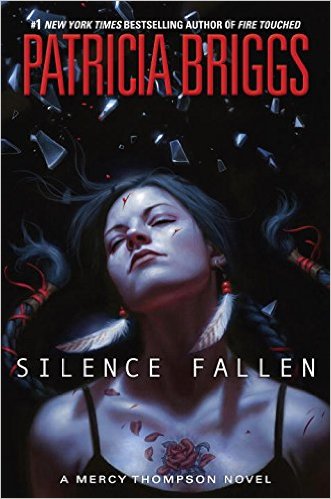 Thompson is having a bad day when she's attacked by the minions of a powerful vampire, taking out of the country only to escape soon after. Alone and on the run while having no allies and no link to her pack, Mercy must find a way to get word to her husband. Can she find a way or will she find herself kidnapped again?
He smiled a charming smile. "You know him best. How do you think I should proceed?"
"You should let me go," I told him instantly. "And never come back to the Tri-Cities again."
His smiles widened, but his eyes remained cool. "Try again."
I shrugged. "I don't know what you want. I fix cars. For hammering out interspecies treaties, your tools are better than mine."
"You make a very good hostage," he said.
I always look forward to reading the next book in this series once I've finished reading the previous one, so it's unfortunate that Ms. Briggs only releases one book of this series a year. Still, I find each story is worth the wait because this author never fails to entertain me as a reader. The way this story starts with how tight the Columbia Basin Pack is and then what happens to Mercy made this book an exhilarating, fast-paced read that had me turning the pages quickly determined to discover how Mercy was going to handle the situation she's landed herself in. Would she be able to defend herself against vampires and werewolves? Can she trust anyone to help her or will she need to do whatever it takes to get word to her husband, Adam?
The dialogue was engaging and intense due to Mercy's dilemma and the fact that various secondary characters have a hidden agenda for Mercy being captured and knowing that her husband will do everything in his power to find her and bring her home including kill those that threaten her life or his pack's safety. However, there were a couple of light-hearted moments that illustrate how right for each other Mercy and Adam are.
"You going to watch my butt all day, or are you going to join me?" asked my mate.
"What if I had said I was going to watch your butt all day?" I asked curiously as I opened the door and stepped into the hot water.
"I've been considering belly-dancing lessons," he told me in a serious voice. His arms tightened around me, and he pulled me hard into him. "It would have given you something to watch. But I'm not sure if I could hold my head up around other Alpha werewolves if I did."
Mercy and Adam – I believe — are one of the best couples in the Urban Fantasy books I read. In the very first book of this series, it wasn't easy for her to trust others because of all that she's been through, but over time Adam has chipped away at her walls and become her whole world together with his pack of werewolves and those she considers close friends in a cop, a couple of fae and a vampire. Mercy is strong, brave and resourceful throughout this story and there's nothing she won't do to keep herself away from those that threaten her life. But what I like most about Mercy is she has abilities that other shifters don't have and isn't afraid to use them, even if they could cause more harm than good for her.
Overall, this tenth novel in Ms. Briggs Mercy Thompson series provides a good dose of action and a few nerve-wracking moments where Mercy found herself in trouble and I didn't know whether she could get herself out, but I really enjoyed this story. The way this story ended was perfect, because it shows Mercy isn't the only misfit in a pack of werewolves and that those in the pack will go to any lengths to help each other and make them feel like family. I would recommend Silence Fallen by Patricia Briggs, if you enjoy Urban Fantasy books.
Book Info:

Publication: March 7th, 2017 | Berkley Publishing Group | Mercy Thompson #10
The coyote shapeshifter has found her voice in the werewolf pack. But when Mercy's bond with the pack—and her mate—is broken, she'll learn what it truly means to be alone…
Attacked and abducted in her home territory, Mercy finds herself in the clutches of the most powerful vampire in the world, taken as a weapon to use against alpha werewolf Adam and the ruler of the Tri-Cities vampires. In coyote form, Mercy escapes—only to find herself without money, without clothing, and alone in the heart of Europe…
Unable to contact Adam and the rest of the pack, Mercy has allies to find and enemies to fight, and she needs to figure out which is which. Ancient powers stir, and Mercy must be her agile best to avoid causing a war between vampires and werewolves, and between werewolves and werewolves. And in the heart of the ancient city of Prague, old ghosts rise…