In Silent Hearts (Hamilton Stables #3) by Melissa West, Nick Hamilton has lost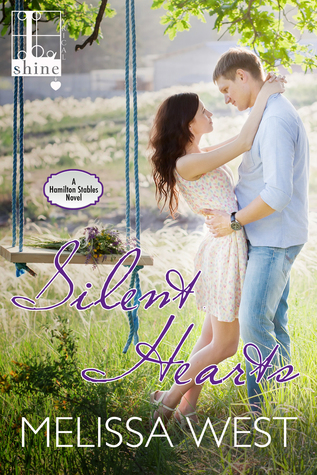 a few important people in his life, but the death of his father has hit him hard. He's at odds with his brothers, and he's running himself ragged trying to keep his father's company afloat. Yet, there's always been one person he can turn to when he needs to talk. That person is his best friend, Becca Stark. Except lately, he's been thinking about her as more than just his best friend. Can he finally convince Becca to give him a chance?
The small smile crept across her face. "You're going to have to hide that charm if we're going to really think about this in the way we should."
"Fine. I'll hide my charm if you hide your legs, because right now I'm having terribly inappropriate visions of them, and I'd hate to have an accident or something because I'm unable to focus."
"You're such a flirt."
"Only with you."
Becca Stark has been in love with Nick for years, and it's becoming increasingly harder to be around him when he sees her as nothing more than his best friend. Yet, lately something has changed with him. He's keeping secrets from her, something he hasn't done ever and she's determined to find out what. But the more she pushes to discover the truth, the closer she gets to finding out what he's holding back. Could it be possible that he feels the same way about her that she does about him? There's only one way to find out, and that is to give Nick a chance to prove they belong together.
Every single book that I've read by Ms. West has hypnotized me from start to finish, and this third book of the Hamilton Stables series was no different. Right from the beginning, it's a well–written and highly entertaining story, encompassing the best friends to lovers trope, a heroine believing she needs to change things in her life because of her insecurities that she's not good enough for Nick, and a hero that's finally realized how much his best friend means to him. The opening line of this book drew me into this story immediately, as the heroine is indulging in a food that she probably shouldn't be.
As for the dialogue, there was a perfect blend of intense, emotional and playful dialogue. Nick and Becca are really close, which comes through loud and clear in their teasing banter. She's always the one he turns to when his life isn't running the way he wants it to, which seems to be a lot. He's at odds with his brothers over their father's company since the man's death. Should they sell or keep it? I couldn't blame Nick for not wanting to let go of Hamilton Industries, but at the same time it seemed selling would set him free. Free from the pressure of maintaining the company's success, which was affecting his life both personally and professionally.
I really liked both the main characters, as well as the secondary ones. The Littleton brothers were fan-your-face hot and I absolutely loved the rivalry between Zac and Nick for Becca's affections. It had me smiling, because Zac knows how to rile the hero. Then there's the rivalry between the Littleton and Hamilton brothers that had me uncertain which team I wanted to cheer for during a certain mini golf game. However, it was the townspeople giving their opinions on whether Becca would get her fairytale ending with Nick that made me feel sorry for her. It was as if they thought she wasn't good enough for Nick. Then again, he and his family are classed as royalty in town, and she will never be anything close to royalty, so it's no wonder she takes everyone's words hard.
As for Becca, she's strong, brave, hard-working and independent. She would do anything for those she cared about, even if it wasn't the best thing for her to be giving handouts. Though, at the same time, I could understand her reasons for wanting to help her sister. She's family. Then there's her determination to face her fears because she wants to earn her diving certification. I really liked that about her, because there was so much to overcome. Her list of things that could go wrong would make a lot of people panic.
"You can't do anything without spewing Nickisms all over it."
"You know, that sounds a little dirty. What kind of Nickisms are we talking about here?" She rolled her eyes and he tried to feign seriousness. "I take offense. I can sit in a class and keep my mouth shut."
"Fine; prove it. You can go to the class today, but if you issue even one Nickism, you're out of there."
While Nick, he's confident, hard-working and stubborn. He goes through a lot in this book. Fighting with his brothers over their father's company; and fighting his feelings for Becca, afraid he was going to lose her. But what I liked most about Nick was how he flirted with his best friend. That alone should have been enough to drive Becca crazy, considering her strong feelings for him. But at the same time, it showed she was the only person that made him relax.
There was so much growing tension between this couple, which continued to build every time they conversed. Until eventually, that tension exploded onto the pages in nicely-detailed sex scenes that illustrate the strong chemistry this couple had right from the beginning when Nick needed Becca's help. However, there's the memory of Nick's late girlfriend that Becca has to compete with, and I wasn't certain the hero could let go, considering his reaction to what he felt was the heroine invading his privacy.
Overall, Ms. West has penned an incredible novel to conclude her Hamilton Stables series. The ending wrapped this story up nicely, despite the fact that Nick could have destroyed their friendship permanently, if he didn't figure what he really wanted for his life. Because change was coming his way whether he wanted it to or not. This author's warm and inviting characters, especially the Littleton brothers will leave readers wanting to discover more about them in an upcoming spin-off series. I would highly recommend Silent Hearts by Melissa West, especially if you enjoy the best friends to lovers trope.
Book Info:

Publication: May 10th, 2016 | Kensington Books | Hamilton Stables #3
The Hamilton brothers have horse racing in their blood, and their sprawling Kentucky farm is the family's pride and joy. But they've got plenty of passion to spare…
Nick Hamilton has always known he'd take the reins of the family business when his father died, but that doesn't make it any easier when the time comes. Especially with his two siblings tempted by a shrewd offer from a huge corporation to buy Hamilton Industries. Needing advice, Nick turns to his sensible childhood friend, Becca Stark-and finds her suddenly grown-up beauty ignites brand-new confusion, and crystal clear desire…
Becca has loved Nick for as far back as she can remember, but she decided long ago that telling him would be a mistake. Stubborn, strong Nick doesn't see her as anything but the tomboy she used to be-or does he? As she helps him untangle his feelings about the ranch's future, the familiar bond between them heats into an explosive attraction-and the kind of love that just might take the lead…